Mary's crown is the promise of our crown
Published: August 19, 2020
Queenship of the Blessed Virgin Mary
The memorial of the Queenship of the Blessed Virgin Mary is celebrated Aug. 22. It is celebrated soon after the solemnity of the Assumption of the Blessed Virgin Mary (Aug. 15.) because it follows this event. The queenship is celebrated in the fifth glorious mystery of the rosary. "Finally the immaculate virgin, preserved free from all stain of original sin, when the course of her earthly life was finished, was taken up body and soul into heavenly glory, and exalted by the Lord as queen over all things, so that she might be the more fully conformed to her Son, the Lord of lords and conqueror of sin and death." (Catechism of the Catholic Church, no. 966).
"And a great portent appeared in heaven, a woman clothed with the sun, with the moon under her feet, and on her head a crown of twelve stars." — Revelation 12:1
In popular Catholic tradition, Mary's coronation is often reenacted during the month of Mary in May crownings. Typically children, usually those who recently received their first holy Communion, carry roses and place them at the feet of a statue of Mary while placing a crown of roses on top of Mary's head. There are also numerous songs, artworks and prayers depicting Mary's queenship.
The feast of the queenship of Mary was established during the universal Year of Mary by Pope Pius XII in 1954. This followed his declaration that the assumption of Mary was a dogma of faith in 1950. In his encyclical, "Ad Caeli Reginam" ("To the Queen of Heaven"), he details the long held tradition of recognizing Mary as queen. "So with complete justice St. John Damascene could write: 'When she became mother of the Creator, she truly became queen of every creature.' Likewise, it can be said that the heavenly voice of the Archangel Gabriel was the first to proclaim Mary's royal office."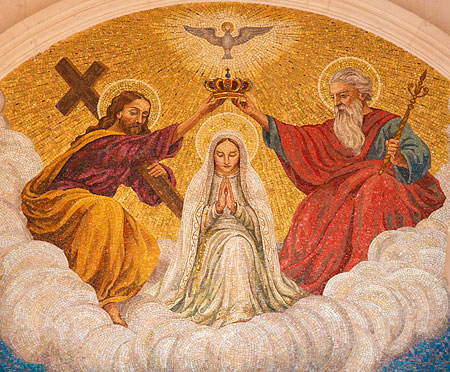 Yet he cautioned the faithful from straying into error. "Beware of unfounded opinions and exaggerated expressions, which go beyond the truth." Mary was chosen; an honor given to her "because of the infinite goodness that is God." Mary was the first to teach us this. "My soul proclaims the greatness of the Lord; my spirit rejoices in God my savior. For he has looked upon his handmaid's lowliness; behold, from now on will all ages call me blessed. The Mighty One has done great things for me, and holy is his name." (Luke 1: 46-49)
So why do we celebrate these events in the life of Mary? Bishop Anthony B. Taylor answers this question in a homily on the assumption: "Remember, every mystery of Mary is meant to draw us closer to Jesus. Every feast of Mary is meant to help us better understand how Jesus' promises of salvation are really true and apply to us."
"In short, the rosary is a success story," explains the National Catholic Register. "Mary's crown is the promise of our crown. What we shall be, Mary already is supremely: a creature exalted and glorified by Jesus Christ to show forth the glory of God in the splendor of his saints. ... Through her, we see how incredibly lavish her Son is in sharing the glory of an even greater kingdom with his friends, children and servants."
For those who find the term "queen" off-putting, know that the way people understand this term today is different from when it first began to be applied to Mary. According to the International Marian Research Institute, "Today there is a noticeable reluctance to apply the title 'queen' to the Blessed Virgin. It is judged to belong to a bygone age. Some say it brings to mind more a mariology of privileges than a mariology of service." When the title was popular, it was understood that, "in Mary, the exercise of regality is maternal service of compassion."
Key in this maternal service and comparison is her role as intercessor, praying on our behalf. "We believe that the holy mother of God, the new Eve, mother of the Church, continues in heaven to exercise her maternal role on behalf of the members of Christ." (catechism, no. 975)
Pope Pius XII concluded his encyclical to explain that the feast of the queenship of Mary was instituted "so that all may recognize more clearly and venerate more devoutly the merciful and maternal sway of the Mother of God. We are convinced that this feast will help to preserve, strengthen and prolong that peace among nations which daily is almost destroyed by recurring crises."
Let Us Pray
Hail, holy queen, mother of mercy, our life, our sweetness and our hope. To thee do we cry, poor banished children of Eve. To thee we send up our sighs, mourning and weeping in this valley of tears. Turn, then, most gracious advocate, thine eyes of mercy toward us, and after this, our exile, show unto us the blessed fruit of thy womb, Jesus. O clement, O loving, O sweet Virgin Mary." Amen.
---
---