Joe Kleine to speak at 2023 rosary rally
Published: September 1, 2023
The Knights of Columbus will host the 2023 Rosary Rally for School Athletes Wednesday, Sept. 6 at St. John Catholic Center in Little Rock. Student athletes, their parents and coaches from all central Arkansas Catholic schools are invited to attend.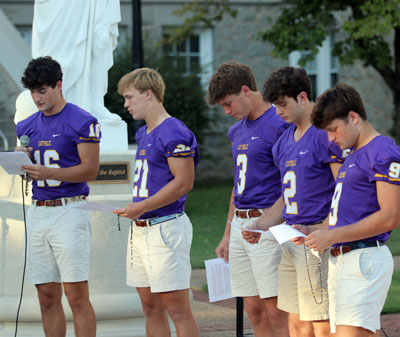 Hot dogs, chips and water will be served at 6 p.m. Students should wear a school jersey or school colors. Families are invited to bring picnic blankets or chairs to sit on the grass in front of Morris Hall.
The keynote speaker will be Joe Kleine, a former Arkansas Razorback, member of the 1984 U.S. Olympic gold medal basketball team and member of the Chicago Bulls NBA Championship team in 1998. He will speak to the students about competing to the best of their abilities while displaying Christian sportsmanship.
The event will conclude with the praying of the rosary. Rosaries will be provided by the Rosary Makers of Sacred Heart of Jesus Church in Hot Springs Village. For more information, read about last year's event in Arkansas Catholic or contact Marguerite Olberts, associate superintendent, at (501) 664-0340, ext. 394.