Holy Saturday: Light overcomes darkness
Published: March 31, 2018
Holy Week Schedule in Arkansas
Click on the link above to see the Easter Triduum schedule for Catholic parishes across the Diocese of Little Rock. Every effort was made to ensure accuracy. Consult a parish directly for last minute changes. If not listed, please
contact the parish
.
"Are you unaware that we who were baptized into Christ Jesus were baptized into his death? We were indeed buried with him through baptism into death, so that, just as Christ was raised from the dead by the glory of the Father, we too might live in newness of life." — Romans 6:3-4
On Holy Saturday, we gather for the climax of the Easter Triduum. "On this holy night, the Church keeps watch, celebrating the resurrection of Christ in the sacraments and awaiting his return in glory. It is the turning point of the triduum, the Passover of the new covenant, which marks Christ's passage from death to life." Known as the "mother of all vigils," the Easter Vigil Mass takes places after sundown and before daybreak, thus beginning and ending in darkness. This year it is March 31. Visit Arkansas Catholic to find an Easter Vigil Mass in your area.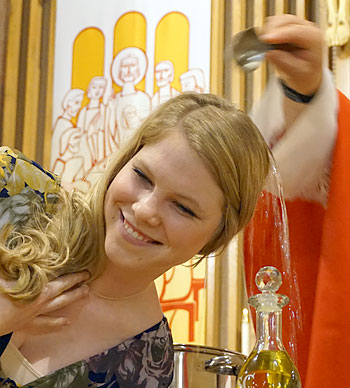 The biblical themes of light removing darkness and life overcoming death runs through the entire Mass, which consists of four main parts: the Service of Light, the Liturgy of the Word, Liturgy of Baptism and Liturgy of the Eucharist.
Our salvation history is proclaimed during the Liturgy of the Word, revealing a God who has always been with us culminating in his resurrection from the dead and ultimate victory over sin and death. We then ring the bells and sing the Gloria and alleluia for the first time since Lent began.
The Mass then transitions into the baptism of those being initiated into the Catholic Church to show the connection between Christ's resurrection and ours. It is a practice that goes back to the early Church and later renewed through the Rite of Christian Initiation of Adults (RCIA) process after the Second Vatican Council.
Nearly 550 people will join the Catholic Church by receiving the sacraments of baptism, confirmation and Eucharist during Easter Vigil Masses in parishes across Arkansas. Read about these new Catholics in the March 31 issue of Arkansas Catholic.
"The events we celebrate today can be summarized by a single phrase: 'The light shines in the darkness and the darkness has not overcome it.' We find this phrase in the prologue of John's Gospel (1:5) and it finds fulfillment in the events of Jesus' death and resurrection," Bishop Anthony B. Taylor explained in his 2017 Easter Vigil homily.
Did you get your new Easter outfit yet? "From the time of the early Christians, the newly baptized wore white garments made from new linen. In medieval times, it became a tradition for people to wear new clothes on Easter Sunday, symbolizing the 'new life' that comes with the resurrection. In some places it was believed that bad luck would come to those who could afford new Easter clothes but refused to buy them."
---