Hearts for Life Conference to be Jan. 18-19
Published: December 13, 2019
Click on the button above to download the registration form and return it with fee to the address provided. For more information, contact Catherine Phillips at (501) 664-0340, ext. 326.
The diocesan Respect Life Office will host its second Hearts for Life Conference for adults at St. John Catholic Center in Little Rock. This event, which will coincide with the Weekend for Life for high school youth, was created to offer participants pro-life speakers, time for prayer and inexpensive and convenient lodging prior to the eucharistic procession and Mass for Life on Jan. 19.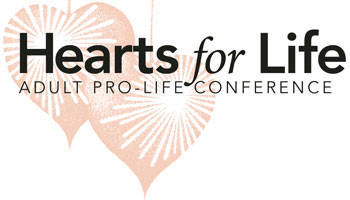 The conference will be held from 1 p.m. Saturday, Jan. 18 to 9 a.m. Sunday, Jan. 19. The cost is $40 per person, which includes lodging, dinner Saturday evening and breakfast Sunday morning. The conference fee without overnight accommodation is only $20 per person. Children are welcome to attend with their parents. Special children's activities will be provided. If you would like your children to attend, please call for a special family rate.
The registration deadline is Jan. 10. However, space is limited. Please register early. Download and return the registration form with fee to the address provided, or contact Catherine Phillips, respect life director, at (501) 664-0340, ext. 326.
Each year, the Mass for Life and related activities are held to mark the anniversary of the U.S. Supreme Court's Roe v. Wade and Doe v. Bolton decisions that legalized abortion in the United States in 1973. Through the events, Catholics statewide have the opportunity to come together and pray for an end to abortion and for all life, from conception to natural death, to be protected and respected.