Healing Mass for abuse victims is April 20
Published: April 17, 2017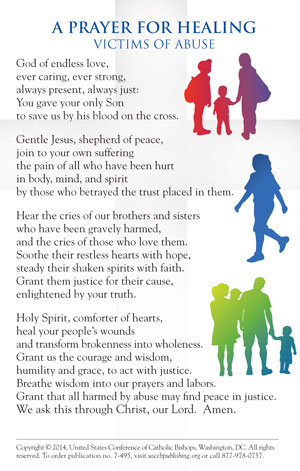 En Español
The Diocese of Little Rock is hosting its first Safe Environment Healing Mass with Bishop Anthony B. Taylor as the celebrant on Thursday, April 20 at 6 p.m. It will be held in Morris Hall Chapel on the grounds of St. John Catholic Center in Little Rock. A reception will follow the Mass.
The Mass is being held in April for National Child Abuse Prevention Month, which is dedicated to raising awareness of and preventing child abuse (whether sexual, physical, or emotional). The Mass will be offered for the healing of all victims of child abuse and those impacted by it. All are welcome to attend. For more information, contact Susan David, diocesan safe environment coordinator, at (501) 664-0340, ext. 332.
The diocese is committed to protecting children and young people. If you are aware of abuse or have been abused by clerics, Church volunteers or Church workers, please report it now.
The Chancery Office oversees the Safe Environment Program which educates clergy, employees and volunteers in the diocese on how to prevent child sexual abuse, how to recognize sex offender behaviors, and how to create safe environments for children and young people in our parishes, schools and community. Learn more. Information on national level can be found through the U.S. Conference of Catholic Bishops.