Give to CCHD Nov. 24 to fund local grants
Published: November 20, 2019
The following article was originally published in Catholic Charities Connections, a special section of Arkansas Catholic, on Nov. 23, 2019.
Each year, the Diocese of Little Rock participates in an annual collection for the benefit of the Catholic Campaign for Human Development (CCHD) during the weekend before Thanksgiving. This year's collection will be held Nov. 23-24. Although most of the collection is sent on to the CCHD national office for use in a nationwide grant program, 25 percent of the collection stays in the state and is used by Catholic Charities of Arkansas to fund its CCHD local grant program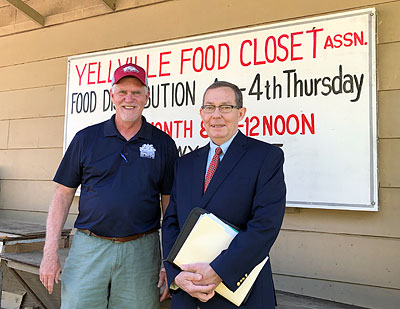 Photo courtesy Catholic Charities of Arkansas
Tim Kelly (left) hosts Patrick Gallaher, executive director of Catholic Charities of Arkansas, for a visit to the Yellville Food Closet Association May 16 in Yellville. The food closet received a local grant funded by donations to the Catholic Campaign for Human Development.
In this fiscal year's program, $17,230 in grants was distributed throughout Arkansas to local agencies. One important consideration in making grant decisions is that there be some local parish involvement in the supported charity. Thus, in many instances, the CCHD local grant program directly supports parish activities.
Examples in the Little Rock area are: Feed the Hungry via the Salvation Army by Christ the King Church; the Faith Community Nurse Program of Our Lady of the Holy Souls Church; and the St. Theresa School Asylee Scholarship Program.
Outside of Little Rock, grants went to: Catholic Christian Women charitable outreach and the Legion of Mary charitable outreach, both of Mary Mother of God Church in Harrison; Immaculate Conception Church soup kitchen in Blytheville; Golden Rule Clothes Closet and More in Fort Smith; Magnolia's Immaculate Heart of Mary Homeless Outreach; Southern Arkansas University Catholic Campus Ministry outreach; and Camden's St. Louis Parish Outreach.
As in the past, CCHD local grants went to a number of pregnancy resource centers, all of which had participation from local Catholic parishes. The Hannah Pregnancy Resource Center in El Dorado is supported by Holy Redeemer Church and the local Knights council. In Little Rock, Birthright of Greater Little Rock has board members from local parishes and has a strong tradition of working closely with Catholic Adoption Services.
Further, the Arkansas Pregnancy Resource Center (known also as St. Joseph's Helpers) is unabashed in its Catholic roots. Additionally, CCHD local grants provided funds to feeding programs including Yellville's Food Closet and Backpack for Kids, the Mountain Home Food Basket and Jacksonville's Fishnet Mission.
Funding these programs allowed for tons of food to be purchased for distribution to those in need. CCHD local grants, funded by the generosity of Catholic parishioners, went to 28 organizations spanning Arkansas.
---