Former Saint Vincent pastor dies at age 92
Published: August 10, 2023
Father James H. Burnie, CSSp, longtime pastor at St. Mary Church in Saint Vincent (Hattieville), died Aug. 3. He was 92. Father Burnie professed his vows as a member of the Congregation of the Holy Spirit Aug. 1, 1980, at Holy Ghost Novitiate in Farnham, Quebec, Canada.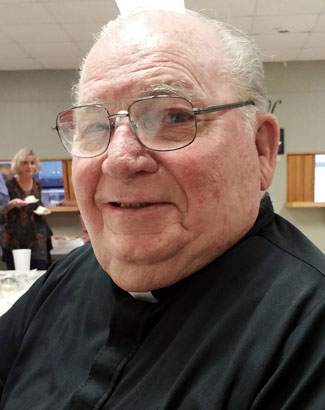 On Feb. 11, 1984, he was ordained a priest at Highland Creek in Toronto. Before becoming a priest, Father Burnie worked for the Canadian National Railway. Soon he became involved in helping the homeless in Toronto, which led to his vocation to the priesthood late in life.
Father Burnie was appointed to parishes in Canada, Mexico, Texas, California and Utah before being assigned to St. Mary Church in Saint Vincent in 2004. He became a superior at the Spiritan Retirement Home in Pennsylvania for a brief time before returning to Arkansas where he ministered at St. Mary Church until he retired on May 3 of this year.
He is survived by nieces and nephews and extended family. A viewing was held Aug. 9 at Immaculate Heart of Mary Chapel in Bethel Park, Pa. The Mass of Christian Burial was held Aug. 9, with burial at St. Mary Cemetery in Sharpsburg, Pa. Memorials may be sent to the Congregation of the Holy Spirit designated for retirement or for the education of future Holy Spirit Fathers and Brothers, 6230 Brush Run Road, Bethel Park, Pa., 15102.
Eternal rest grant unto him, O Lord. And let the perpetual light shine upon him. And may he and all the souls of the faithful departed, through the mercy of God, rest in peace. Amen.