Diocese may celebrate Rother feast day
Published: April 12, 2018
Bishop Anthony B. Taylor received approval from the Vatican to celebrate an optional memorial for Blessed Stanley Rother in the Diocese of Little Rock. All Catholic parishes in Arkansas may celebrate this feast day on July 28 unless a celebration of higher precedence falls on that day, such as a Sunday.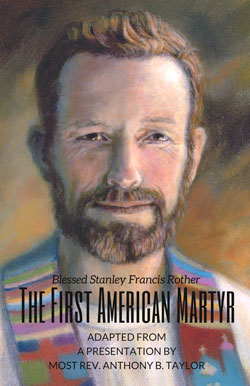 Blessed Rother, who was beatified in Oklahoma City last September, was murdered July 28, 1981 in Guatemala. He has been recognized as the first American-born martyr.
The Congregation for Divine Worship and the Sacraments approved the new feast for the Diocese of Little Rock in a March 19 letter to Bishop Taylor, which included an official decree in Latin from Cardinal Robert Sarah, prefect of the congregation. The memorial is also on the liturgical calendar the Archdiocese of Oklahoma City because the beatification cause originated there.
Bishop Taylor made the announcement in a letter to priests April 5. "Let us pray that the commemoration of Blessed Stanley Rother will help us grow in faithfulness to the Lord as we seek to be good shepherds to the flock entrusted to us here in Arkansas.," the bishop wrote in the letter. Read Arkansas Catholic to learn more.
Blessed Rother, an Oklahoma native, was ordained a priest in 1963. Five years later the Archdiocese of Oklahoma City sent him to serve its mission in Santiago Atitlan, Guatemala, where he helped build a small hospital, a school and a Catholic radio station. He served there until he was murdered in the parish rectory. The archdiocese opened a cause for sainthood for Father Rother in 2007. Bishop Taylor was the episcopal delegate for Father Rother's cause from 2007 until he was named the bishop of Little Rock in 2008.