Deacon John "Bo" McAllister, 75, dies Aug. 3
Published: August 5, 2022
Deacon John "Bo" McAllister died unexpectedly at the VA Hospital in Little Rock on Wednesday, Aug. 3 at the age of 75. He served as a diocesan employee for 21 years until his retirement as chancellor for canonical affairs in 2015.
McAllister, a graduate of Arkansas State University and a 2nd Lieutenant in the U.S. Army, where he was a helicopter pilot in Vietnam, moved his family to Little Rock in 1978, where he worked for BEI electronics as a project manager. He graduated from the University of Arkansas at Little Rock Law School in 1986, was ordained a deacon in 1993 and joined the diocese as director of lay ministry in 1994.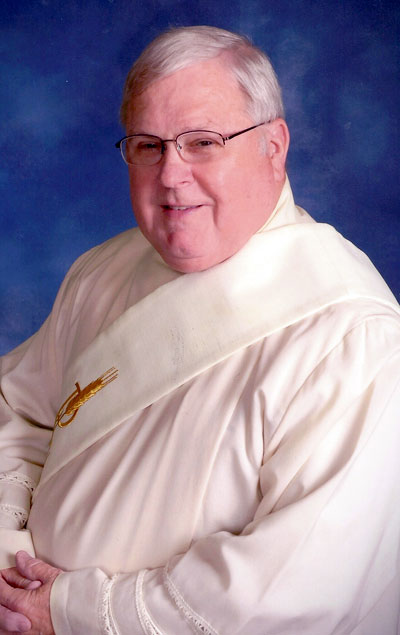 At the urging of Bishop J. Peter Sartain, he obtained a degree in canon law from Catholic University in Washington in 2005 and became chancellor of canonical affairs in the same year. He dealt with matters that were sometimes difficult, nothing more so than setting up a Safe Environment Office while helping the diocese draft updated policies to protect minors from sexual abuse and assist victims of sexual abuse by clergy.
In an interview with Arkansas Catholic in 2015, he described his job this way: "I support the bishop and I do what the bishop needs me to do. I am supposed to be the keeper of the records and that includes the archives. In our diocese, the office also handles all the paperwork for marriages, people getting married.
"With my canon law degree, I work on the other end in the tribunal too. For every marriage that takes place in the state, the marriage preparation packet has to come to my office and I get to see parts of it. … (For other duties) I have been there when the parish council couldn't get along with the pastor and building issues sometimes. I was never (in a parish) when everyone was happy."
A member of Christ the King Church in Little Rock, he and his wife Vicki worked with the Rite of Christian Initiation of Adults (RCIA) process for 28 years, and were also involved with the Cursillo movement.
He is also survived by one son, Marcus McAllister of Paris, France; one daughter, Wendy McAllister Bloom of Lewisville, Texas; and three sisters, Crystal Wood of Little Rock, Sue Rolle of Virginia Beach, Va., and Kim Free of Bradford.
Visitation will begin at 6:30 p.m., followed by a rosary at 7 p.m., on Monday, Aug. 8 at Christ the King Church in Little Rock. The Mass of Christian Burial will be held at 2 p.m., Tuesday, Aug. 9, also at Christ the King.
Eternal rest grant unto him, O Lord. And let the perpetual light shine upon him. And may he and the souls of all the faithful departed, through the mercy of God, rest in peace. Amen.