Blessed are Those Who Mourn
Published: April 7, 2017
This is the third column in a 10-part series.
By Clifford Yeary
Associate Director, Little Rock Scripture Study
"Blessed are they who mourn, for they will be comforted." — Matthew 5:4
The beatitudes are blessings directed toward followers of Christ, first of all, and to the crowds as potential followers. The crowds would probably be puzzled by many of the blessings. Being poor in spirit is a blessing? We are blessed if we are in mourning? It is no different for us today, especially if we mistakenly equate being blessed with happiness.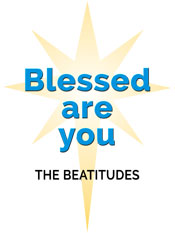 When we do so, we are likely to see the blessing of those who mourn simply as a promise of future happiness. Certainly, we grieve in the present when we lose a loved one, and often the only happiness we can grasp at is that our faith and hope tell us that our loved one is entering a new life of eternal happiness in Christ. And well we should, because it is true.
But that is not the core meaning of the second beatitude. Jesus is telling his disciples that they are blessed precisely because they mourn. It is their mourning that God will respond to by comforting them. Those who do not mourn may count themselves as being comfortable, but they might miss out on the comfort God will provide those who do mourn.
This will be clearer to those who have experienced mourning as a prayer. Mourning as a form of prayer is more than the grief experienced over a loss. Mourning in this sense is the offering of our experience of loss to God — even when there is anger toward God because we sense somehow that God was involved in taking away our loved one.
Israel knew that kind of mourning.
[Y]ou have rejected and disgraced us;
you do not march out with our armies.
You make us retreat before the foe;
those who hate us plunder us at will.
You hand us over like sheep to be slaughtered,
scatter us among the nations.
You sell your people for nothing;
you make no profit from their sale. (Psalm 44:10-13)
Whether or not there is even a trace of anger in our mourning, when mourning is offered as a prayer it is a prayer that will be answered by God.
There is something more, however, that is also contained in this beatitude. It tells us that we should mourn. At the time Jesus delivered the beatitudes his disciples were not mourning, and for good reason. But the time would come when they would mourn and also for good reason.
"The disciples of John approached him and said, 'Why do we and the Pharisees fast (much), but your disciples do not fast?' Jesus answered them, 'Can the wedding guests mourn as long as the bridegroom is with them? The days will come when the bridegroom is taken away from them, and then they will fast.'" (Matthew 9:14-15)
Here, mourning (with fasting) will be the response the disciples will have when Jesus is taken away from them. Of course, it is also in Matthew that we learn that Jesus is never truly absent from us.
"For where two or three are gathered together in my name, there am I in the midst of them." (18:20)
"And behold, I am with you always, until the end of the age." (28:20)
And so it is that we continue to live our lives in Christ as those who both mourn and rejoice, with good reason for both. Our mourning, however, if it is both prayerful and biblically rooted will not just be mourning for our personal losses. We are called to mourn together, as Christians. We are called to do this communally and liturgically in penitential rites and during Lent. We continue to grieve for our participation in human sinfulness, the sinfulness that sent Jesus to suffer and die on the cross.
There is still more to our prayerful mourning, however. When Jesus blessed those who mourn, we should recognize the communal grief that afflicted Israel as a nation. Recall the grief noted in Psalm 44. Israel yearned for the day when the promises of a restored kingdom would bring about the reign of God and the rule of justice in the land. They grieved that without God's rule injustice triumphed. The needs of the poor, the sick, the orphan and the widow were neglected. Let us look clearly at our world, our nation, our communities and prayerfully mourn when it is appropriate.
Study Questions
When has mourning been a part of your life? Were you able to find comfort from God and others? How are you still seeking comfort?
What do you think would be different between grief without faith and grief that is a prayer? (See 1 Thessalonians 4:13-14.)
What are some notable experiences you have had from participating in penitential services and Holy Week liturgies?
What are some of the current circumstances facing our world, our nation, our communities that should spur mourning in the hearts of believers?
This article was originally published in Arkansas Catholic April 8, 2017. Copyright Diocese of Little Rock. All rights reserved. This article may be copied or redistributed with acknowledgement and permission of the publisher.