Bishop asks all to join consecration to Mary
Published: March 22, 2022
Bishop Anthony B. Taylor issued the following statement, March 22, 2022, inviting all parishes in the Diocese of Little Rock to join Pope Francis in formally consecrating Russia and Ukraine to the Immaculate Heart of Mary.
"To all the priests and people of the Diocese of Little Rock,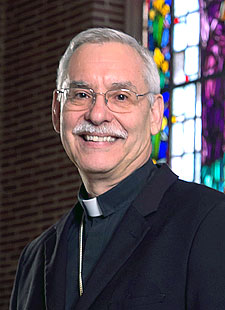 "As you see from the attached letter addressed to all the bishops in the world, Pope Francis announced that this Friday, on the solemnity of the Annunciation of the Lord, March 25, 2022, he will formally consecrate Russia and Ukraine to the Immaculate Heart of Mary. Please find attached the prayer of consecration that Pope Francis has sent us.
"I would like to join with the Holy Father in inviting all of our parishes to make an act of consecration in their parish church at 11 a.m. this Friday, March 25. This will coincide exactly with the 5 p.m. ceremony presided over by Pope Francis in Rome. For pastoral reasons, priests do have permission to do this at a different time if that seems best. The Holy Father also encourages us, both clergy and laity, to recite this prayer of consecration privately throughout the day.
"This prayer of consecration could be part of a larger liturgy or prayer service, for instance in connection with a Mass (in place of the general intercessions or after Communion), or incorporated into the Liturgy of the Hours (after mid-day prayer) or at the end of a rosary or the Divine Mercy Chaplet.
"The Holy Father will be doing this in the context of a penitential service, with the actual act of consecration expected to take place about 6:30 p.m. Rome time, which would be 12:30 p.m. here.
"Sincerely in Christ,
+Anthony B. Taylor
Bishop of Little Rock"