Be St. Nicholas' 'partner' this Christmas
Published: December 1, 2017
St. Nicholas Partners is an annual Advent appeal to raise money for the ministries of Catholic Charities of Arkansas (CCA). Examples of what a donation can do include buying medicine for a patient of the Westside Free Medical Clinic, assisting a victim of domestic violence or providing a Bible to an inmate seeking guidance.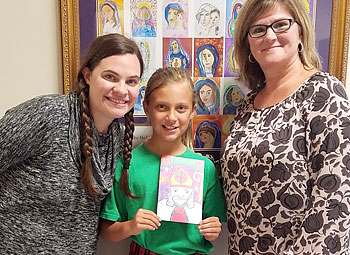 Photo courtesy Arkansas Catholic
St. Nicholas Partners art contest winner Anna Kate Lipin is flanked by her art teacher Kelly Volgelegsang (left) and Our Lady of the Holy Souls School principal Ileana Dobbins.
All the ministries of CCA provide services to the most poor and vulnerable among us. These include: Catholic Adoption Services, Immigration Services, Little Rock, Immigration Services, Springdale, Prison Ministry Office, Refugee Resettlement Office, Westside Free Medical Clinic, Family Assistance Program, Services to Victims of Domestic Violence and Disaster Response.
St. Nicholas "partners" (donors) may designate which ministry they want their donation to support. They may also donate on behalf of a friend or family member as a Christmas gift.
Those making a donation in honor of a loved one are asked to mail their donation before Dec. 15 and indicate on the remittance envelope who the gift is for, so CCA staff can mail the card with acknowledgment of your gift by Christmas.
Each year, a new Christmas card depicting St. Nicholas is created for the appeal. The artwork for this year's card was chosen from an art contest for students in grades 6-12 in Arkansas' Catholic schools. The first-place winner was Anna Kate Lipin from Our Lady of the Holy Soul School in Little Rock. Her design is on the cover of this year's card. The second-place winner was Matthew Poland of St. Vincent de Paul School in Rogers. The third-place winner was William Stager from North Little Rock Catholic Academy.
This Christmas card was inserted in the Nov. 25 issue of Arkansas Catholic for subscribers. If you did not receive a card, please contact Bridget Lewis at (501) 664-0340, ext. 379, to request a card or donate via credit card. To mail a donation, please make your check payable to Catholic Charities of Arkansas and mail to:
St. Nicholas Partners
Catholic Charities of Arkansas
P.O. Box 7239
Little Rock, AR 72217-7239