Alive in the Word: a new study from LRSS
Published: June 7, 2016
In May, Little Rock Scripture Study (LRSS) released a new series, Alive in the Word, with two titles, "Mary, Favored by God" and "Trust: Confidence in the God of Salvation." Eight more will be released in the coming year, including, "Mercy: God's Nature, Our Challenge," in July to coincide with the Jubilee Year of Mercy.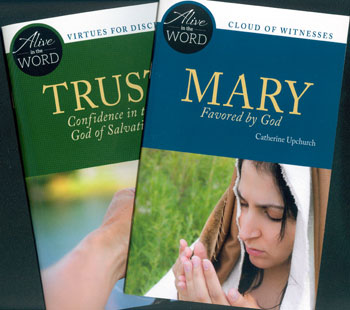 While the emphasis in other LRSS series is biblical understanding and reflection, Alive in the Word focuses on biblical spirituality, reflection and how to apply the lessons to one's life.
This series is designed to be shorter and more flexible. Each booklet includes only three sessions that can be completed in 60 to 90 minutes each.
Other benefits include:
Participants don't have to prepare before the session. All the reading can be done while the group is meeting.

The series can easily be used by individuals who are looking for Catholic Bible study materials to use at home.

The books are affordable (retail price is $7.95) and no other commentaries or videos are needed to supplement the booklet. Each participant is recommended to have a Bible, but it isn't required.

Each booklet could be completed in three weeks or even as a Day of Recollection in one day. The traditional LRSS studies last four to 15 weeks.

No trained facilitators are required. Anyone in the group can lead sessions through the reflection questions.
Cackie Upchurch, director of Little Rock Scripture Study, said, "Our goal is to focus very clearly on a small amount of Scripture, a manageable amount of reading, but with a powerful message that is easy to grasp." Read more in Arkansas Catholic.
This series may be ordered online at aliveintheword.org and Amazon or purchased at religious bookstores. E-books are also available. In addition to those booklets already released, participants may pre-order studies to be released in the coming year.
Little Rock Scripture Study is a ministry of the Diocese of Little Rock in partnership with Liturgical Press. For more information, visit Alive in the Word or contact Nancy Lee Walters at (501) 664-6102.