2019 jubilarian priest Mass to be June 25
Published: June 20, 2019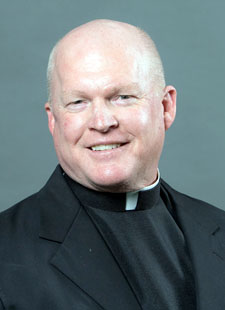 Each year, Bishop Anthony B. Taylor celebrates a Mass of thanksgiving to honor priests who are celebrating special anniversaries of priestly service in the Diocese of Little Rock. This year, the Mass will be honor Father Phillip Reaves, who is celebrating 25 years of priesthood, at 5:30 p.m., Tuesday, June 25 at the Cathedral of St. Andrew in Little Rock.
In addition, all senior (retired) diocesan priests will be recognized for their service. These include: Msgr. J. Gaston Hebert, PA, Msgr. James Mancini, Msgr. Richard Oswald, Fr. John Oswald, Fr. Alan Rosenau, Fr. Andrew Smith, Fr. Clayton Gould, Fr. Edwin Graves, Fr. Henry Mischkowiuski, Fr. Jon McDougal, Fr. Joseph Pallo, Fr. Kevin Atunzu, Fr. Nho Duy "Dominic" Do, Fr. Pius Iwu, Fr. Ralph Esposito, Fr. Robert Dienert, Fr. Stan Swiderski and Fr. Thomas Keller.
A dinner reception will follow in McDonald Hall that is open to everyone. No reservations are required. If unable to attend the Mass, please say a prayer of thanksgiving for these priests many years of faithful service caring for the flock. For more information, contact María Velázquez, secretary of Bishop Taylor, at (501) 664-0340.
Father Reaves serves as the diocesan director for prison ministry. In this now full-time role, which officially began May 7, he coordinates prison ministry throughout Arkansas in the federal and state prisons and county jails. Chaplains and volunteers provide free rosaries, Catholic Bibles and prayer books as a part of this ministry. The Prison Ministry Office is a program of Catholic Charities of Arkansas.