2017 CCHD grants help Catholics serve
Published: November 27, 2017
The following is an except from an article that was originally published in Catholic Charities Connections, a special section of Arkansas Catholic, on Nov. 25, 2017.
Catholic Campaign for Human Development (CCHD) at the Diocese of Little Rock awards a limited number of small grants to provide financial assistance to organizations whose efforts are aimed at serving the needs of low-income people. Projects eligible for funding can either be direct service-oriented, or aimed at institutional change.
Grants between $200 and $2,000 are awarded for the fiscal year July 1, 2017 to June 30, 2018. These grants help Catholics meet a wide range of needs within their local communities while assisting parishes in being a Catholic charity.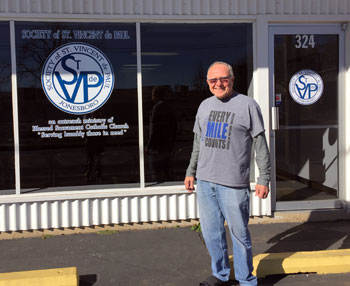 Photo by Patrick Gallaher / Catholic Charities of Arkansas
Ron Blackburn stands in front of the Sacred Heart Conference of the Society of St. Vincent de Paul storefront outreach in Jonesboro, which received a CCHD Local Grant to assist area families in need.
Among the grant recipients were three pregnancy resource centers to protect the unborn. The Arkansas Pregnancy Resource Center in Little Rock applied for the grant to help fund office systems for their new mobile medical unit.
Birthright of Greater Little Rock received a grant for the direct needs of women coming for help. Both of these organizations work closely with Catholic groups and are supported by central Arkansas parishes. Informed Choices Women's Center also received a grant to help women in the Mountain Home area.
Two Catholic parishes operating food pantries received grants to help with food purchases. In total, the grants will allow the pantries to purchase more than five tons of food. Hope is an archetype of small town Arkansas. Rural, dependent on agriculture and with a poverty rate of 27 percent, Hope relies on the Our Lady of Good Hope Church Food Pantry to help the town's poor make ends meet.
And while Russellville is a thriving town, it still has a sizeable portion of its population living in poverty. The St. John Harvest House Food Pantry in Russellville provides monthly food supplies to families struggling to cope.
Many CCHD local grant recipients receive support from Catholics in their communities. In Hot Springs, the Project HOPE Food Bank and the Samaritan Ministries Men's Shelter receive support from and help to support St. Mary of the Springs Church, St. John the Baptist Church and Sacred Heart of Jesus Church.
In Benton, parishioners from Our Lady of Fatima Church assist in providing food, clothing, and financial assistance through the Churches Joint Council on Human Need. In Maumelle, Immaculate Heart of Mary Church in North Little Rock (Marche) helps sustain the Hope Ministry Alliance to distribute food and clothing. In Jacksonville, St. Jude the Apostle Church supports Fishnet Missions to distribute food to the poor, the elderly, veterans and the homeless.
In Jonesboro, the Society of St. Vincent de Paul provides financial assistance to those in need. Literacy Action of Central Arkansas operates successful English as a Second Language programs in conjunction with St. Edward Church and St. Theresa Church in Little Rock. Also in Little Rock, area Catholics help the homeless through Settled Souls of Arkansas and Jericho Way.
In McGehee, parishioners from St. Mary Church volunteer at the McGehee Desha Alumni Community Center to run a school aftercare program. In Conway, St. Joseph Church supports the City of Hope Outreach Program, which operates a men's homeless shelter and a school aftercare program.