V Encuentro in Arkansas
The Fifth National Hispanic Pastoral Encuentro (V Encuentro) is a four-year process that continues through 2020 that calls upon the Catholic Church in the United States to discern how it can better serve Hispanic Catholics and strengthen their role as missionary disciples to the entire Church. This initiative of the U.S. Conference of Catholics Bishops is based on the theme: "Missionary Disciples: Witnesses of God's Love."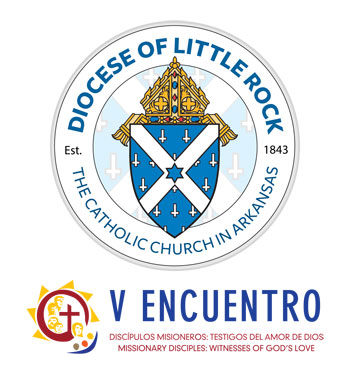 V Encuentro starts at the parish level. Assisted by V Encuentro diocesan teams, parishes host five consecutive sessions that offer participants a chance to pray, reflect consult and discern the following themes:
1. Called to a loving encounter with Jesus
2. With words and actions: Do it!
3. Walking together with Jesus
4. Bearing fruits of new life
5. Celebrating the joy of being missionary disciples
The parish encuentros are followed by diocesan, regional and national encuentros. The process concludes with a period of evaluation, reflection and development of a plan to meet the objectives of V Encuentro. For information about V Encuentro activities in the Diocese of Little Rock, visit our Calendar of Events.
These five themes were inspired by Pope Francis' call to create a culture of encounter in his apostolic exhortation, "Evangelii Gaudium" ("The Joy of the Gospel").
The Holy Father reiterated this call in his message to the bishops of the United States about V Encuentro, Pope Francis said, "Our great challenge is to create a culture of encounter, which encourages individuals and groups to share the richness of their traditions and experience; to break down walls and to build bridges."
"We need to become ever more fully a community of missionary disciples, filled with love of the Lord Jesus and enthusiasm for the spread of the Gospel," he said. "It is my hope that the Church in your country, at every level, will accompany the encuentro with its own reflection and pastoral discernment. In a particular way, I ask you to consider how your local churches can best respond to the growing presence, gifts, and potential of the Hispanic community." Read or watch his message.
---