Hispanic Ministry Office
The Hispanic Ministry Office promotes and coordinates ministry to Hispanic Catholics throughout the Diocese of Little Rock. The office provides leadership and acts as a resource for parishes to implement the Diocesan Pastoral Plan for Hispanic Ministry.
Movements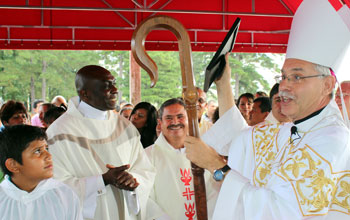 The Hispanic movements of the Diocese of Little Rock are communities of faithful individuals and practitioners of the Catholic faith.
Although some have been in existence for more than 10 years, they began to work in union with the pastoral plan of the diocese in 2011. They began interacting with each other in the knowledge and experience of a common faith and a single Church.
The movements are called to the new evangelization in Arkansas and wherever they go. They are present in most of the 40 parishes in Arkansas that offer Hispanic ministry.
By doing various activities and serving in society, they find their true Christian vocation by being examples of the faithful laity. Together, more than 1,000 committed laity take part in these movements under the authority of Bishop Anthony B. Taylor. This joining of forces gives witness and example of our Catholic faith.