St. Andrew School of Evangelization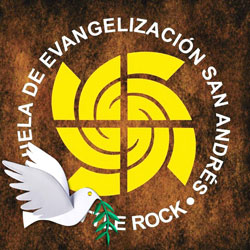 The St. Andrew School of Evangelization challenges participants to answer Jesus' call to evangelize to the ends of the earth, forming new evangelists for the new evangelization of the third millennium. It is named after the Apostle Andrew because of his example in evangelizing his brother, Peter. Its mission is to follow Andrew's example in finding people like Peter who can love, serve and proclaim the Lord better than ourselves. This ministry is available in English and Spanish. It began in the Diocese of Little Rock in March 2011. Internationally, there are more than 2,000 schools of evangelization in 70 countries worldwide. Courses are offered year-round at the diocese and on the parish level. | Brochure
Inspired by St. John Paul II's call for a new evangelization, we strive to: "Go into all the world and proclaim the Good News to the whole creation" (Mark 16:15) forming new evangelists for the third millennium. Our goal is to have an evangelized and evangelizing Church that acts with great power, through the strength of the Gospel and the parresia (confidence) of the Holy Spirit. St. Paul told his disciple, Timothy: "Be strong in the grace that is in Christ Jesus. And what you heard from me through many witnesses entrust to faithful people who will have the ability to teach others as well" (2 Timothy 2:1-2). If you have questions, or wish to form a school of evangelization in your parish, email Serio Torres or call him at (501) 664-0340.
Background and Mission
This ministry began in the Dioceses of Little Rock on March 8, 2011 with the approval of Bishop Anthony B. Taylor and permission of Jose H. Prado Flores, international founder of the program. It is named after the Apostle Andrew because of his example in evangelizing his brother, Peter. "Andrew, the brother of Simon Peter, was one of the two who heard John and followed Jesus. He first found his own brother, Simon, and told him, 'We have found the Messiah' (which is translated Anointed). Then he brought him to Jesus. Jesus looked at him and said, 'You are Simon, the son of John; you will be called Cephas' (which is translated Peter)." (John 1:40-42)
Our mission is to follow Andrew's example in finding people like Peter who can love, serve and proclaim the Lord better than we can ourselves. We seek to establish a school of evangelization in every Catholic parish in Arkansas. See all St. Andrew School of Evangelization events in Arkansas.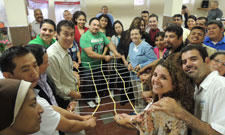 Three Flames of Evangelization
Kerygma — the apostolic proclamation of salvation through Jesus Christ, the heart and foundation of evangelization
Charisma — Reveals signs of the Lord's fidelity allowing us to experience Jesus alive and among us permitting us to evangelize with great power
Koinonía — Evangelized and evangelizing communities that show the Kingdom of God among us
Practical Application
We learn to evangelize by evangelizing.
We form and train local teams on the parish level using the coursework from the program. Material is available in English and Spanish.
All courses may be copied or redistributed.
We help you begin your own school of evangelization.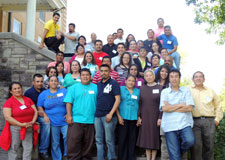 Formation and Catechist Certification
Participants may attend for their own spiritual development or to earn catechist certification. Formation follows the P.E.P.S.I. (Permanent, Progressive, Systematic, Integral) model. Courses are offered year-round at the diocese and on the parish level in three stages. Each stage includes seven courses.
First Stage: Fundamentals of the Christian Life (Service Certificate)
Second Stage: How to Evangelize (Evangelization Certificate)
Third Stage: How to Form Evangelizers (Catechist Certificate)