You are Always Welcome
Have you drifted away from the Catholic Church? If you would like to return, we want to help you. To speak to someone about returning, contact the Office of Faith Formation or a parish near you.
We understand you may have drifted away as a teenager or while attending college. Or you may have married, divorced and now think you are excommunicated. You may have had an abortion and feel guilty and ashamed. Or you may have been offended in some way by a representative of the Church — a priest, a sister, a brother, a teacher or a church worker.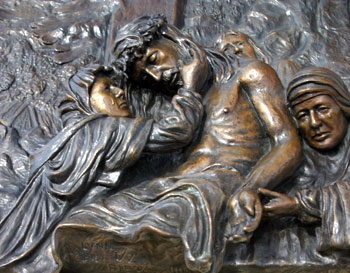 Whatever the reason for leaving we want to welcome you back. We know returning can be frightening. We want to remind you that the Catholic Church is made up of weak, sinful people, and we all rely on the mercy and forgiveness of a loving God.
The disciples of Jesus left him and came back. We have a beautiful story in Luke's Gospel (Luke 24:13-35) that tells us about two of Jesus' disciples who left Jerusalem on Easter Sunday not willing to believe that Jesus had risen from the dead. They were disappointed and sad and were on the way to Emmaus to find a better way of life.
But a stranger walked with them, listened to their story and explained what had happened to them in a way that was meaningful to them. When they realized who he was in the sharing of a meal their lives changed forever and they returned to Jerusalem and proclaimed to all who would listen that Jesus was alive.
No matter how long you have been away, you are always welcome to return. Coming back may not be easy. It may be a slow process as you take time to surface hurts and seek forgiveness. We know that you might have questions about the Second Vatican Council, divorce and remarriage, and we are open to talking to you and providing resources to answer your questions.
---
---
Recommended Reading
The following resources might be helpful to you in your spiritual journey. For more information, e-mail Jeff Hines, director of faith formation, or call him at (501) 664-0340.
---
Books
"Returning Home to Your Catholic Faith: An Invitation", Sally L. Mews, Liguori Publications
"Returning Home to Your Catholic Faith: An Invitation", Sally L. Mews, Liguori Publications
"While You Were Gone: A Ha ndbook for Returning Catholics - and Those Thinking About It", William J. Bausch, Twenty-Third Publications
"Could You Ever Come Back to the Catholic Church", Lorene Hanley Duquin, Alba House
"Faith Rediscovered: Coming Home to Catholicism", Lawrence Cunningham, Paulist Press
"Stories of Coming Home", William J. Fitzgerald, Paulist Press
"A Faith Interrupted - An Honest Conversation with Alienated Catholics", Alice L. Camille & Joel Schorn, Loyola Press
---
Catholic Update
Catholic Update is a monthly newsletter from St. Anthony Messenger Press.
"The Sacrament of Reconciliation: Celebrating God's Forgiveness", Sandra DeGidio, OSM
"Why Be Catholic?", William J. O'Malley, SJ
"Ten Questions About Annulment", Joseph M. Champlin
"What Catholics Believe: A Popular Overview of Catholic Teaching", Leonard Foley, OFM
"Nine Things That Make Us Catholic", Thomas H. Groome
"A Walk Through the Mass: A Step-by-Step Explanation", Thomas Richstatter, OFM
"Bringing Your Marriage Into the Church", Msgr. Joseph M. Champlin
"How to Understand the Bible: Examining the Tools of Today's Scripture Scholars", Norman Langenbrunner
"The Creed: Faith Essentials for Catholics", Thomas Bokenkotter
"Pathways of Prayer" by Jack Wintz, OFM