Tuesday, Dec. 8, 2020 - Wednesday, Dec. 8, 2021
Location: Worldwide

In his apostolic letter, "Patris Corde" ("With a Father's Heart"), Pope Francis declared a universal Year of St. Joseph on Dec. 8, 2020, which was the 150th anniversary of St. Joseph being declared patron of the universal Church. It continues through Dec. 8, 2021. The U.S. Conference of Catholic Bishops offers several resources to help you celebrate this year. See also these resources for the Solemnity of St. Joseph, husband of the Blessed Virgin Mary.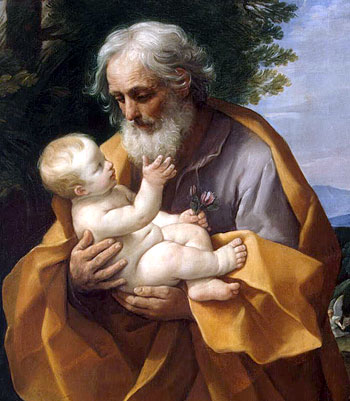 After pointing out the Scriptures that reveal St. Joseph to be a model for holiness, the Holy Father offered personal reflections on how St. Joseph is like the "ordinary people" who have been our heroes during the COVID-19 pandemic. These are the people who "do not appear in newspaper and magazine headlines, or on the latest television show, yet in these very days are surely shaping the decisive events of our history," he wrote.
"Each of us can discover in Joseph — the man who goes unnoticed, a daily, discreet and hidden presence — an intercessor, a support and a guide in times of trouble. St. Joseph reminds us that those who appear hidden or in the shadows can play an incomparable role in the history of salvation," Pope Francis added.
The Apostolic Penitentiary, a Vatican tribunal that deals with matters of conscience, also issued a decree Dec. 8, 2020, that plenary indulgences will be granted to Catholics not only through prayer and penance, but also through acts of justice, charity and piety dedicated to St. Joseph. The normal conditions for receiving an indulgence, which include having a spirit detached from sin, receiving sacramental confession and Communion as soon as possible and praying for the Holy Father's intentions apply.
Read Vatican News to find other ways of obtaining the indulgence, including an option for the elderly or sick who "for legitimate reasons are prevented from leaving their home" by "reciting an act of piety in honor of St. Joseph and committed to fulfilling the conditions as soon as possible."
In addition to the rosary, other prayers to consider include a prayer to St. Joseph, litany to St. Joseph, novena to St. Joseph or a spiritual bouquet to St. Joseph, patron of fathers. At the conclusion of "Patris Corde" ("With a Father's Heart"), Pope Francis offers the following prayer that he wants us all to pray together:
Hail, Guardian of the Redeemer,
Spouse of the Blessed Virgin Mary.
To you God entrusted his only Son;
in you Mary placed her trust;
with you Christ became man.
Blessed Joseph, to us too,
show yourself a father
and guide us in the path of life.
Obtain for us grace, mercy, and courage,
and defend us from every evil. Amen.
---