Add to My Calendar

2021-08-07

2021-08-07

11

2021 Taste of Faith: Virtual Edition

DONATE NOW Watch "Taste of Faith: Virtual Edition" live from Christ the King Church in Little Rock on Saturday, Aug. 7 at 7 p.m. on the new Taste of Faith website to meet our new vocations director and get to know the seminarians who will be the future pastors in our parishes. To learn more, read the FAQ. Want to host a watch party? Use this guide to help in your planning. Taste of Faith began in 2010 as a dinner to raise money to pay for seminarian education in the Diocese of Little Rock. Over time, one dinner grew into multiple dinners held in all four regions of Arkansas. Because of the COVID-19 pandemic, the Taste of Faith dinners were combined into one, livestream event that everyone could watch online in 2020. This year, as society slowly returns to normal, we will provide a similar program that you can watch on the NEW Taste of Faith website, our Facebook page or YouTube channel. Some of you may even be able to join us in person as we broadcast from Christ the King Catholic Church in Little Rock. Taste of Faith is hosted by the Stewardship and Development Office and Vocations and Seminarians Office.

WATCH IT LIVE at 7 p.m. on tasteoffaith.org

true

DD/MM/YYYY
Saturday, Aug. 7, 2021
Location: WATCH IT LIVE at 7 p.m. on tasteoffaith.org
City: Donate at tasteoffaith.org/give
Contact: Dianne Brady
Phone: (501) 664-0340

Watch "Taste of Faith: Virtual Edition" live from Christ the King Church in Little Rock on Saturday, Aug. 7 at 7 p.m. on the new Taste of Faith website to meet our new vocations director and get to know the seminarians who will be the future pastors in our parishes. To learn more, read the FAQ. Want to host a watch party? Use this guide to help in your planning.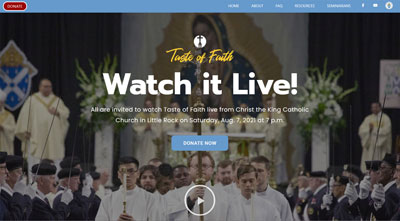 Taste of Faith began in 2010 as a dinner to raise money to pay for seminarian education in the Diocese of Little Rock. Over time, one dinner grew into multiple dinners held in all four regions of Arkansas. Because of the COVID-19 pandemic, the Taste of Faith dinners were combined into one, livestream event that everyone could watch online in 2020.
This year, as society slowly returns to normal, we will provide a similar program that you can watch on the NEW Taste of Faith website, our Facebook page or YouTube channel. Some of you may even be able to join us in person as we broadcast from Christ the King Catholic Church in Little Rock. Taste of Faith is hosted by the Stewardship and Development Office and Vocations and Seminarians Office.
---