Tuesday, Nov. 1, 2022
Location: Holy day of obligation - Diocesan offices closed

All Saints Day is the feast on which we celebrate those who have died and gone to heaven. Catholic teaching holds that all people in heaven are saints. This includes all saints, not just those who are known to us (those canonized by the Church). We, the faithful on earth, celebrate their triumph and seek to learn from their example in what it means to live holy lives. We also ask them to pray for us so that we go to heaven as well.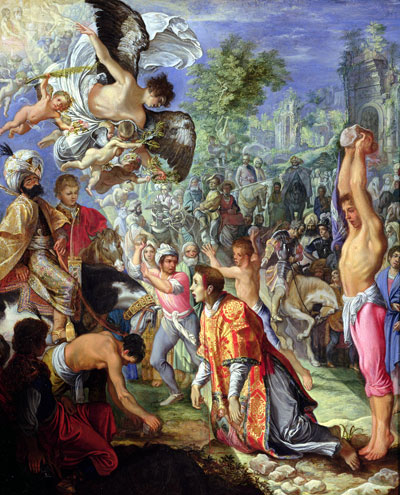 All Saints Day should not be confused with All Souls Day. On All Souls Day, we remember and pray for those who have died who are in purgatory. Souls in purgatory "have not yet been purified" in order to enter heaven. This feast is celebrated on Nov. 2.
"Today we honor all the saints and we ask them to pray for us, that we will be one day be allowed to join them in heaven. And tomorrow on All Souls Day we pray for all the faithful departed who are still being purified in purgatory for eventual admission into heaven," explained Bishop Anthony B. Taylor in his All Saints Day homily. "And on both days we pray for ourselves, that the Lord help us become pure of heart now, purified by the trials we endure for Christ now, holy now and saints in the life to come."
A feast day to celebrate all saints began in the fourth century when Christians were often put to death for refusing to denounce their faith. There were so many martyrs that a separate feast day could not be given to each one individually so a common feast day began to be celebrated during the Easter season. Pope Gregory III consecrated a chapel to all saints in St. Peter's Basilica in Rome in the ninth century and moved the feast to Nov. 1.
Later, Pope Gregory IV made All Saints Day a universal feast in the Church. To learn more, see the following: What Does the Bible Say about Praying to Saints?, The Family of God: All Saints and All Souls or You Were Chosen To Be A Saint.
---