IV Philosophy
Tuan Do, St. Patrick Church, North Little Rock
Attends Assumption Seminary, San Antonio, Texas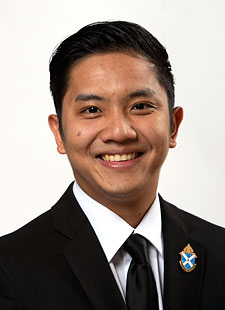 My full name is Dominic Tuan Khac Anh Do. I was born and raised in a Catholic family in Vietnam. My parents are retired, giving them time to help take care of their grandchildren. I have five siblings, two brothers and three sisters. I am the youngest son in my family. My childhood was blessed with great love from my parents and my siblings.
I followed my mother and my father to church every single day when I was a little boy. My parents were the first people to teach me how to say the rosary and other Catholic prayers. When I was in Vietnam, I happily went to church every day. Those times were great for me because I could listen to the priest teaching about ethics and the love of God. Slowly, I felt love for a priest's life and a priest's work.
Pope Benedict XVI wrote a book with the title: "The Priest is the Bridge to God." God lets his men who are called to be priests to lead his people on earth. Furthermore, priests are the ones who will bring you closer to God each day because that is their mission. God granted him a graceful responsibility to change, heal, teach, forgive and reconcile the soul of human beings.
Absolutely, the priest calling is not granted by man but further it derives from the blessing of our Lord Jesus Christ. Faith in priests is faith in Christ who fully put his trust in his disciples to take care of God's people after he left the earth. I want to reflect on my short experience from my observation and understanding as a future priest.
The world needs priests today, tomorrow, and forever, because he is a servant of God who brings us close to God. Through a priest, we see the light of wisdom, love and forgiveness to enlighten our hope, joy and faith each moment. With a priest, we are not afraid of temptation and weakness in this temporary home on earth. In a priest we see the presence of God to maintain and protect us every day.
He is the light from the sun in the sky to warm the people's hearts in the morning. He is also the light from the moon to enlighten the hope of people in dark night. He is an instrument of peace through Christ; he is a vehicle of salvation to drive us to God. Finally, he is our destination to find our happy ending in Jesus Christ.
Moreover, when I listened to priests teaching in the church and watched movies about God's life and saints' lives, I thought and felt that God and Catholicism are perfect. I began loving to study about God and loving to study about the lives of the saints. While studying in Vietnam, I met a priest who told me about the vocation to the priesthood. He said that I was a good man, and I could become a good priest.
His observation made me happy, and I thought I would like to become a priest to serve God and his people. Observing this priest's life taught me about being a good Catholic; following a holy life, and thinking about my dream to become a priest one day in the future.
Certain activities also encouraged me to continue to think about the vocation to the priesthood. Participating in charity activities with the nuns from the convent of Mother Teresa of Calcutta, enabled me to see the living sacrifice and service of the sisters. I participated in their work of caring, teaching and playing with children 8 to 16 years old. This helped me have a deeper understanding of their love and the love of Christ.
Additionally, visiting the sick and elderly patients in a hospital in Vietnam encouraged me to help others seek the peace God offers them as a gift. I felt very blessed and happy to show the goodness of God to those who need it. Artistically, I learned to work with toothpicks and wooden chopsticks to create models of Christian churches. I have enjoyed creating these works of art, which also help me to use my time constructively.
When I came to United States several years ago, I still desired to seek a vocation to the priesthood. I like this country so much because it is a land of peace and Americans are very friendly. By the grace of God, I met Deacon Louis Tuyen Do, and he told me a lot about the great people of the Diocese of Little Rock.
I am so fortunate to have met Father Jack Vu and Msgr. Scott Friend. I am especially thankful to Bishop Anthony B. Taylor for accepting me and allowing me to pursue this dream of a lifetime. I am grateful to the Diocese of Little Rock for their warm welcome; their support and especially for their prayers.
Now that I have been a seminarian in Diocese of Little Rock for a while, I am inspired and realize how the Diocese of Little Rock has been the biggest support for me in my vocation. Especially, the people that I have met from the diocese who greeted me with kindness and love as they welcome me daily as being their future priest. Because of this, I am so grateful to be here in this diocese and recognize the opportunity to grow my spiritual life and physical life as a seminarian.
I continue to study at the Mexican American Catholic College at the Assumption Seminary in San Antonio. These studies have provided me a strong academic foundation for the future. The subjects that have had the greatest influence on me were philosophy and the study of language.
I also found interesting the Bible class. It opened me up to the passion of love and the desire to know more about our beautiful Catholic doctrine. I believe these are the most important things I can bring to my future as a priest where I will be called upon to develop the faith in Catholic people through the Bible, language and ministry.
Up to this point, I believe I developed a good grasp of the subject of philosophy by analyzing the arguments from the writings of different philosophers. Also, I have been studying English and Spanish to complement my native Vietnamese language. Finally, I have advanced my passion of Bible study to help my future goal of becoming a priest.
Looking into my spiritual formation at the Assumption Seminary, I know a goal is to connect with God and seek an ever-deeper friendship with Jesus. To be close to God, I usually clear my mind and truly listen to God, Who cares about me. I am learning how to study and read about prayer. I always set aside some time for God because the best period to pray and connect with God is in silent time. Also, when I pray and use my own time with God I feel happy and peaceful in my soul.
The Eucharist has always been the most important focus in my life. Receiving the Eucharist makes me strong because of the real presence of Jesus's body and blood in the Eucharist. And during eucharistic adoration, I feel God come to my heart and fulfill his love to me.
Loving the poor and sinners has become a special attraction for me because the mission of charity brings me closer to others and helps me to love my fellow man. When I perform acts of charity, I see that our brothers and sisters are very friendly and loving with us. That is the reason this ministry touches me. Furthermore, I also see God present in the poor and sinners. We are connected together by God's love.
From my point of view, I am developing certain important skills needed for ministry to bring the love of God to the elderly, the poor, and the vulnerable. It is a big task to help people who have special situations in society such as those in hospitals, the immigrants, the youth and those I contact through campus ministry. It is a great blessing to be able to help, respect, understand and collaborate with others. All of these ministries make me stronger in my faith and my love of God and others.
I love everything about my life and having lived at the Assumption Seminary and House of Formation. They have become my home, where I have found my real vocation through love and my ministries in this journey.
Finally, I thank God for all the people of the diocese and their incredible works to support me and my vocation. I truly cannot describe in words my gratitude for this love — the people of the Diocese of Little Rock amaze me.
Lastly, over time, I have read many different books and stories about Cardinal Nguyen Van Thuan, the great Catholic cardinal, whose life has had a big effect on my vocation. He was named venerable by Pope Francis because of his significant faith life that led to much suffering for his belief in Jesus Christ. Moreover, his life was always centered on the importance of the Eucharist in his life.
From these studies, I have learned more about how I should be faithful to the Eucharist. As Cardinal Van Thuan believed, our Catholic faith teaches us to believe in Jesus Christ and the importance of going to church and receiving the Eucharist. From the cardinal's example, I understand that belief in this is the main essence of the Catholic faith and believers. However, I also learned from Cardinal Nguyen Van Thuan that there is no Eucharist without a priest; no priest without a seminarian, and no seminarian without the love, support and prayers of the Catholic people.
Truly, none of this is possible without your grateful love, support and prayers. I understand just how important the people are to my fundamental development of faith and my vocation, and I look forward to following my dream to be a priest so that I can serve all of you. Finally, I could not have come this far on my vocation journey without the great love and big support from my family, who taught me about the Catholic faith and helped me grow in the love of God.
If you wish to contact Tuan Do, please e-mail Georgina Pena in the Vocations Office or call her at (501) 664-0340. This article was published Oct. 11, 2021. Copyright Diocese of Little Rock. All rights reserved. This article may be copied or redistributed with acknowledgement and permission of the publisher.