2027 — II Philosophy
Samuel Stengel, St. Joseph Church, Paris
Attends the House of Formation in Little Rock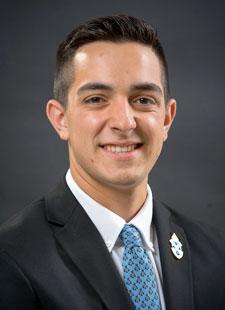 Having been in seminary at the House of Formation in Little Rock for a full year now, I have a very different perspective on my vocation and where my path in seminary will ultimately lead. While I know that I will always have more room to grow in my relationship with God and my understanding of what it means to fulfill my vocation, I also know that I have come a long way this year.
Upon entering the seminary, I had a plan of how everything would work. I was full of enthusiasm and lofty ideals, never imaging how challenging the journey would be compared to my comfortable, uninterrupted way of life back home on the farm. However, despite the challenges that I have had to face, I am even more convinced of my vocation than I was when I first arrived at the House of Formation.
One of the reasons that I have become more convinced of my vocation to become a priest is that I more clearly understand what led me to the seminary. I had the idea that I may someday become a priest since I was a little kid, and there were a lot of little pointers which the Holy Spirit gave me to keep me heading in the right direction — such as some particular experiences that I had in diocesan youth ministry and with some of my family members — but the things that really moved me to pursue the path that I am on are the cross and the holy sacrifice of the Mass.
The experiences I had, helped to prod me toward the seminary, but it was always in prayer focused on Jesus' sacrifice for me that I recognized him calling me. It was in eucharistic adoration that I made my final decision to enter the seminary and give up the life I could have had. It was in contemplation of Jesus' cross that I heard him call out to me to lay my life down to him as he did for me.
I realized that it was Jesus' sacrifice that led me to seminary because I found over the past year that this is the nature of the priesthood. A priest is called to totally lay down his life for Jesus and for the Church as Jesus, the high priest, exemplified in his passion. When a priest celebrates the holy Mass, he is surrendering himself at the altar in union with Jesus. The thing that draws me to the priesthood is my desire to unite myself to Christ fully, and this requires the total surrender and sacrifice of self, which a priest is called to do.
I am grateful for the grace which I have received to be able to understand these things a little better and for all of the people who have cooperated with the Holy Spirit to guide me and counsel me on my journey. My parents and my entire family have been stalwart supporters for me since the beginning. I do not know where I would be in my journey without their presence in my life.
I am also thankful for the support of the priests who have been involved in my journey, especially my uncle, Father Josh Stengel. The Holy Spirit has used them to show me how to navigate many of the difficulties I have encountered. All of these people and more who have encouraged me and prayed for me have had an indispensable part in helping me to grow.
Due to the many changes that I have experienced with the rending of my plans, I have had to learn to let go of the false sense of control that I had when I entered the seminary in order to let God be in control and take me where He wants me to go. My only job is to give myself to him and to the service of his people.
Everything that I do should be "for the greater glory of God" as the Jesuits say. Over all, I can see that as I enter my second year of seminary, I have grown in ways that I did not really expect and in some ways that I do not yet fully understand. I pray that the Lord will be with me to guide me as I continue my journey, and through the intercession of the Blessed Mother that he will grant me the humility to fully surrender myself so that I may be more fully united to him.
If you wish to contact Samuel Stengel, please e-mail Maria Izquierdo-Roque in the Vocations Office or call her at (501) 664-0340. This article was published July 1, 2020. Copyright Diocese of Little Rock. All rights reserved. This article may be copied or redistributed with acknowledgement and permission of the publisher.