2025 — IV Philosophy
Joel Brackett, St. Vincent de Paul Church, Rogers
Attends the House of Formation in Little Rock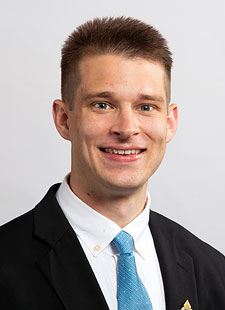 Our Lord can transfigure the life and refine the soul of even his most distant sheep. I was raised in a loving and supportive Catholic family in Rogers, and I learned to love and serve God throughout my Catholic education. Even through burdensome seasons of life, my parents taught me to trust in and stay patient with the Lord's often obscure ways. As I matured, I began doubting the reality of my faith and largely ran away from much of Christian morality.
My life in high school revolved around sports, parties, girls and my personal image. I desired fulfillment and despairingly entertained every incorrect source. Very little changed with my lifestyle during my first semester at Hendrix College. Toward the end of my freshman year, a Protestant teammate on my football team began having Bible studies with me. This discipleship fostered a newfound relationship with God in my life, but I still had not fully embraced the life-changing Gospel of Christ. Duwan, another Protestant teammate, also started experiencing conversion in his life and was knocking on my door every night to read God's Word and challenge my Catholic faith.
The summer thereafter, I attended a nine-week, Protestant discipleship program with Duwan, other teammates and hundreds of college students. I started truly following Christ for the first time, but my friends continued to question my Catholic faith, and I simply didn't have the answers. I remember Duwan telling me: "We are either both going to end up Catholic, or we are both going to end up Protestant."
We began delving into Catholic theology and Church history together, and our lives were changed forever. After falling in love with the Catholic faith, I knew I wanted to give my life to the Church in some way, and Duwan knew God was calling him into his Church.
Until this point, I was studying to attend medical school. However, during my sophomore and junior years at Hendrix, I experienced the Lord inviting me to explore and consider the priesthood. Every day since, I have become more aware of and in touch with Christ's calling to be his priest. I am beyond excited and hopeful to become a servant of the extraordinary people of this diocese and state.
My vocation journey began at the House of Formation in January of 2019. Each day has been a learning experience whereby I have come to a greater understanding of myself and our Lord. His mercy and grace call me in every moment to greater participation in the divine life, even though I so often fail. I am slowly experiencing what the Father's radical love means to me, and I pray that he draws me more deeply into the mysteries of our faith as I continue this journey.
Your continual prayers and generosity never fail to amaze us, for which we thank you! Let us truly fall in love with Jesus, follow in his footsteps, and bring his name to the ends of the earth.
If you wish to contact Joel Brackett, please e-mail Maria Izquierdo-Roque in the Vocations Office or call her at (501) 664-0340. This article was published July 1, 2020. Copyright Diocese of Little Rock. All rights reserved. This article may be copied or redistributed with acknowledgement and permission of the publisher.
---
---