II Theology
Duwan Booker, St. Joseph Church, Conway
Attends Assumption Seminary in San Antonio, Texas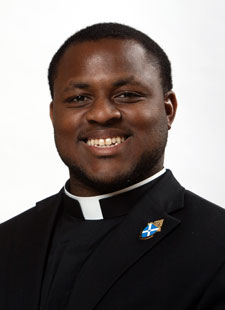 Since a young age, I have seen God transform the lives of his people whom he loves so dearly. As a child, I witnessed the toil and despair of sin. I saw the fruits of living a Christian lifestyle versus living a life that was worldly.
When I was two, my biological father was incarcerated and has been there ever since. Yet my mother and grandmother worked so hard to provide for my family; my whole life I owe to them.
When I was seven, my mom married my stepdad, a noble man who has rooted manhood and hard work deep within me. I am very thankful for my family. Without them I would not be here today.
I grew up in Dallas, faithful to the Church of Christ and transitioned to a local Baptist church when my family and I moved out of my childhood apartment. I went to nearly every church function and was deeply involved in youth ministry; church kept me out of trouble and brought me to the Lord.
Toward the end of high school, I received the opportunity to play football at Hendrix College. At Hendrix, I placed my faith on the back burner, stopped going to church, and indulged in the party culture.
Months later, a friend invited me to a student ministry service at UCA (University of Central Arkansas). There, I realized my life was far from the faith that I verbally proclaimed, so I dedicated my life to Christ and began attending Zion Temple Church of God in Christ, a Pentecostal church.
I started to experience deeply the love and presence of God and was reminded of my childhood call to minister. I knew God was calling me to preach, and I felt most comfortable in the Pentecostal church — I made up my mind that I would become a Pentecostal preacher.
The following summer, a Catholic teammate and I attended a nine-week Evangelical program that aimed to empower college students to live and proclaim the Gospel of Christ. I tried with everything to convert my friend to Protestantism. I thought Catholicism was not Christianity, and I wanted to save him from it. We started studying Catholic philosophy, theology and Church history together.
In direly desiring truth, we finally believe we found it. During Easter 2018, I decided to come into the Catholic Church. Becoming Catholic was one of the toughest decisions of my life. I am the only one in my family who is Catholic. But even in this new milieu, what remains is the Lord's call for me to shepherd his people.
The words of C.S. Lewis profoundly embody my road to the Church: "When we want to be something other than (what) God wants us to be, we must be wanting what, in fact, will not make us happy." However, since my coming into the Church, Christ has transformed my heart and has given me great satisfaction in living my life as his priest.
I am in my second year of theological studies at Assumption Seminary in San Antonio. My first year was transformative for me as I was able to develop both good habits and a healthy disposition towards my studies that will enable me to better understand how I am to discern God's will for my life.
Please continue to keep me in your prayers and know that I am doing all that I can to be the best version of myself. With the help of God and your prayers, I am confident that I will continue to grow in faith, piety, and charity in preparation towards fulfilling God's call on my life.
If you wish to contact Duwan Booker, please e-mail Georgina Pena in the Vocations Office or call her at (501) 664-0340. This article was published Oct. 11, 2021. Copyright Diocese of Little Rock. All rights reserved. This article may be copied or redistributed with acknowledgement and permission of the publisher.
---