2018 — IV Theology
Dc. Tuyen Do, Cathedral of St. Andrew, Little Rock
Attends Sacred Heart School of Theology, Hales Corners, Wis.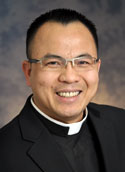 The priesthood is a special vocation that God calls men among other men to serve him and his people. Hence, to respond to this call is to enter into intimacy with Jesus Christ; to become like him, and to share his love by serving all people.
I do not remember exactly the first time I thought about a priestly vocation. However, I am quite certain there are some reasons that led me to discern the priesthood vocation.
First of all, my vocation has its origins from my parents. My father and mother taught me about the priesthood and about loving neighbors. My parents are devout Catholics. They attend Mass every single morning and would take me with them.
This opportunity gave me the chance to become close to and to learn the love of God through the Eucharist and the Gospels. Hence, I would like to discern the priesthood vocation so that I may share the love of God through the Mass and homilies.
Secondly, my parents were very nice to all their neighbors. They would generously help them, even strangers. One day, I saw how happy they were after helping a poor family. I asked my parents why we should care for our neighbors and people who are poorer than us. They just smiled and answered that because we are Catholics, the sons of God.
So, we just shared whatever we received from God. When I grew up, I realized that my parents taught me a lesson of service and love for others. When I did something for others and saw that I made them happy, I felt very happy too. Hence, I especially like to serve and make people happy and to bring joy to the sorrowful as my parents taught me.
Thirdly, our house was very close to our parish church. It took me around five minutes to walk to church every day. I could even hear the sound of Mass from our house. I followed my parents to church every single morning. The backyard of our church was also a soccer playground for me and the other kids in our village.
I had a great childhood experience of our devoted pastor. He was a generous, kind, friendly and merciful priest. He cared for all the people in our community and especially the poor. He often spent time visiting every single family in our community (Christian and non-Christian).
Furthermore, the people had the habit of going in the evening to the houses of parishioners, who were suffering with critical illnesses, to pray for them. I had never seen him miss one house visit. In general, observing my pastor's presence in our community and his caring for all people made them feel joyful and happy.
He cared for others, as Jesus in the Gospels, and his visits brought joy to the parishioners, much like when Mary visited Elizabeth. All these experiences contributed to my dream of becoming a diocesan priest like my old pastor. I could bring the Good News and happiness to all people.
I visited the Diocese of Little Rock in September 2014 and I had a chance to meet and speak with Bishop Anthony B. Taylor, Msgr. Scott Friend, Father Jack Vu and all the priests on the vocations team. Their warmth and friendly manner made me happy.
I could see in them the image of Jesus Christ through their behavior. Their examples clarified my vocation. Therefore, I constantly prayed to our Lord Jesus Christ, that he would shine upon me and strengthen my faith so that I could follow their footsteps to become a good shepherd in service and care for everyone.
Finally, I would like to thank God that I was born and raised up in a Catholic family. I had a chance to practice my faith and get close to the Eucharist since I was a young boy. I also would like to thank my parents because they taught me the first lessons of charity and service. I appreciate that God has sent good priests into my life so that I can follow their examples to serve God and his people in the future.