2021 — IV Theology
Dc. Ben Riley, Christ the King Church, Little Rock
Attends St. Meinrad Seminary, Indiana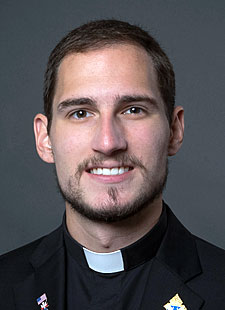 There are many poems, sayings and idioms that describe, in sharp detail, how I feel approaching my diaconate ordination and my last year in seminary. "The journey of a thousand miles begins with a single step." "Two roads diverged in a wood, and I — I took the one less traveled by, and that has made all the difference." "It is not about the summit, but the pursuit of the summit. Not the victory, but the game itself."
Nine years is a long time to be in college, and while I am joyfully anticipating my diaconate ordination Aug. 14, I also recognize that my ordination is not a finish line, but a starting line. The Lord did not call me to be a seminarian, but to serve him as a priest, and I am ready to start putting into practice what I have learned in the seminary.
This summer, I will be working at Immaculate Conception Parish in Fort Smith and shadowing Father John Antony. After a particularly challenging semester due to the Covid-19 pandemic, I am looking forward to participating in ministry and celebrating the sacraments. In this time of uncertainty, I am encouraged by our community of faith.
Many Catholics are experiencing a newfound hunger and desire for the sacraments because of our recent physical separation from them. It is a blessing and an opportunity for me to start my summer ministry right as public Masses are resuming. The Lord's timing never ceases to amaze me.
This global health crisis has certainly forced us to change and adapt the ways we are used to publicly worshiping our Lord. While this adaptation has been challenging, it has not diminished our faith, but for many, has revitalized it. There is always great hope. Classes at St. Meinrad Seminary are scheduled to resume in the fall, church attendance is continuing to rise, and a shadow of fear that has been looming for several months is starting to fade away.
I want to sincerely thank everyone who has supported me on my journey. I could not be here if it were not for the grace of God and your prayers. Please continue to keep me and my brother seminarians in your prayers and be assured of my prayers for you and your families. May God bless you and keep you safe.
If you wish to contact Ben Riley, please e-mail Maria Izquierdo-Roque in the Vocations Office or call her at (501) 664-0340. This article was published June 1, 2020. Copyright Diocese of Little Rock. All rights reserved. This article may be copied or redistributed with acknowledgement and permission of the publisher.
---