Velasco to be ordained to diaconate May 17
Published: May 13, 2019
Bishop Anthony B. Taylor will celebrate the diaconate ordination Mass of Daniel Velasco Pérez at 6 p.m. Friday, May 17 at St. James Church in Searcy. Being ordained a transitional deacon is a major step toward priestly ordination. A reception will follow the Mass. All are invited to attend. If unable to come, set up a notification on your phone to watch the ordination live.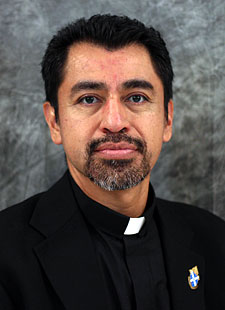 Guests are also welcome to attend a holy hour for Velasco at 4 p.m. Friday, May 17 at St. James Church. During eucharistic adoration and vespers, prayers will be offered for him and an increase in vocations to the priesthood and religious life.
Velasco, 45, is the son of Ismael Velasco Miguel and María del Carmen Pérez Vargas. He will serve his first Masses as a deacon and preach his first homily during the 7 p.m. Spanish Mass on Saturday, May 18 and the 8:30 a.m. Mass in English on Sunday, May 19, both at St. James Church.
In his vocation story he described an experience he had during adoration at a retreat. "I have run through my mind to understand what exactly happened, and I cannot explain it. There was no thunder or lightning. There, at that moment during adoration, in the silence of my heart, God was whispering, and for the first time, I realized that Jesus was inviting me to share on his priesthood." Read the rest of his story.
Velasco is currently studying at St. Meinrad Seminary in Indiana in preparation for ordination to the priesthood in 2020. For more information, contact the Vocations and Seminarians Office at (501) 664-0340.
---