Teachers recognized at Professional Day
Published: October 7, 2019
The Diocese of Little Rock recognized eight teachers and staff members for their service during the 83rd annual Professional Day for Teachers at Christ the King School in Little Rock on Friday, Sept. 27. Lou Trusty was not present, but was honored for working 50 years at Subiaco Academy.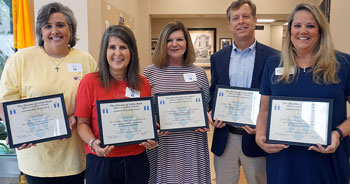 The following were honored for 25 years of service in Catholic schools:
Karen Davis, junior high and high school social studies teacher, St. Joseph School, Conway
Kim Ratcliff, fifth-, seventh- and eighth-grade math teacher, St. Joseph School, Fayetteville
Laura Snow, second-grade teacher, Christ the King School, Little Rock
Steve Straessle, principal, Catholic High School, Little Rock
Lane West, health and P.E. teacher, Mount St. Mary Academy, Little Rock
Paula Siebenmorgen, a preschool teacher at St. Joseph School in Conway, was not present but was recognized for her 25 years of service.
Professional Day is a daylong, continuing education program that also includes Mass, adoration of the Blessed Sacrament, a keynote speaker, focus sessions, vendor booths and lunch. Catholic schools are closed on this day to allow Catholic educators to attend. It is sponsored by the Office of Catholic Schools. For more information about this event, contact Marguerite Olberts, associate superintendent for marketing, at (501) 664-0340. To learn about Catholic schools in Arkansas, visit our schools directory.