Support seminarians on Holy Thursday
Published: April 7, 2017
We invite you to consider partnering with the diocese in preparing our 31 seminarians for the priesthood. Click on the link above to donate online to support their education.
The Holy Thursday Collection for seminarian education will be held April 13. The money from this Diocese of Little Rock collection will support the educational and housing expenses for the diocese's 31 seminarians. It costs the diocese more than $1 million to educate these men annually.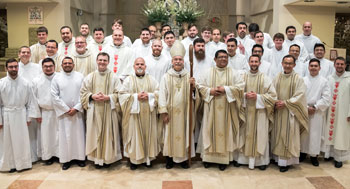 Msgr. James E. O'Connell started an endowment fund for diocesan seminarians more than 50 years ago. This fund has been invested through the years and was able to cover the costs of educating the seminarians until recently when the number of young men studying for the priesthood increased dramatically.
Today the cost of educating one seminarian is $36,000 per year, which includes tuition, room and board, health insurance and other needs. With 31 seminarians, the fund can no longer cover these costs. We invite you to consider partnering with the diocese in preparing these young men for the priesthood.
Place your donation in the special envelope provided at your parish on Holy Thursday. If contributing by check, please make the check payable to your parish or the Diocese of Little Rock. You may also donate online or mail a check directly to: Holy Thursday Collection, Diocese of Little Rock, P.O. Box 7239, Little Rock, AR 72217
Five men were ordained priests by the diocese in 2016 and six priestly ordinations are scheduled next month. To learn more about our seminarians, read or watch their vocation stories. For more information, contact the Vocations and Seminarians Office at (501) 664-0340.