Seminarian Signing Day in Jonesboro
Published: August 1, 2018
Bishop Anthony B. Taylor preached the following homily during a Mass to receive Quinn Thomas' letter of intent to become a seminarian for the Diocese of Little Rock in Jonesboro on Wednesday, Aug. 1, 2018. It is based on the readings for the feast of St. Alphonsus Liguouri, bishop and doctor of the Church, which include the Gospel of Matthew 13:44-46.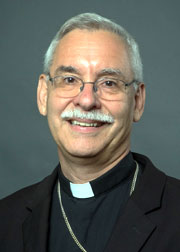 Bishop Taylor
During our Mass today Quinn Thomas will formally sign his letter of intent to become a seminarian and God willing, one day a priest of the Diocese of Little Rock — a vocation to the priesthood being his "pearl of great price."
So I think it is especially appropriate that the Gospel reading that we just happen to have today — we didn't plan this, it is just the Gospel that the Church assigns to today in the lectionary — is Jesus' parable that the kingdom of heaven is like a man searching for a fine pearl who upon finding it "goes and sells all that he has and buys it."
Well priests spend years searching for the pearl that God has chosen for them, discerning our vocation — Quinn has at least eight years of seminary ahead of him and he has already been discerning this for some time.
We priests have the honor of serving the people Jesus entrusts to our care, which is why the Church asks us to die to ourselves as a condition for ordination.
And upon finding it, we priests give up everything to make it our own. This pearl is truly "of great price" — celibacy is costly, obedience is costly, death to self is costly, which is why it is also so valuable. Thieves steal what is valuable and so Satan tries to steal our vocation, tries to talk us out of giving ourselves fully to the Lord.
Hence Jesus' warning earlier in the Gospel of Matthew: "Do not give what is holy to dogs, or throw your pearls before swine, lest they trample them underfoot, and turn and tear you to pieces." This was, by the way, coincidentally, the Gospel the Church gave us last month for our jubilee celebration of those priests completing 25, 40, 50 and 60 years of faithful service.
Hence the importance of protecting this pearl from all that might put it at risk. At the jubilee celebration I pointed out that it is helpful to notice that a pearl is the product of irritation, which reminds us that faithfulness is not always easy.
You know how pearls are made: a grain of sand enters the oyster when the shell's valves are open for feeding and becomes imbedded between the shell and the soft skin of the oyster. The oyster then secretes a substance which coats the irritant, forming a pearl.
Many of us experienced a call to the priesthood that was like that: Jesus wouldn't leave us in peace — especially when our shell was open and we let down our guard. He kept tugging at our heart. Sometimes this was pretty irritating and sometimes we faced opposition. But the Lord persisted and began to form a pearl within us. This process began before entering the seminary and has continued since ordination.
Jesus turns every new challenge into an opportunity to make our pearl more beautiful. Even our stumbles, once we learn from them. Hence the importance of availing ourselves of all the spiritual help available to us: a good confessor and spiritual director, a daily Mass and holy hour, healthy friendships and avoidance of the near occasion of sin, etc.
Today we thank God for the opportunities he gives us to grow in holiness — and also for the challenges he uses to form seminarians into the kind of priests he wants us to be.
We priests have the honor of serving the people Jesus entrusts to our care, which is why the Church asks us to die to ourselves as a condition for ordination. That was the great price Jesus paid for us. As I reminded our priests at our jubilee celebration, when we lay prostrate before the altar during the litany of the saints, it is to be as a visible sign that through ordination we die to this world so that, like Jesus in whose priesthood we share, we might bring life to others.
In baptism we died sacramentally so that we might live. In ordination we die so that others might live. And then Jesus sends us out into the world with a mission to redirect people to the narrow path that leads to life, which will only happen if we remain on that path ourselves.
Quinn, we are proud of you and we pray for you as you sign your letter of intent. Jesus sets before you "a pearl of great price" and you have indicated your desire to make that pearl your own, responding to what you believe is Jesus' call to the priesthood. I will look forward to sharing with you the next stage of that journey with the Lord during the coming year at our House of Formation in Little Rock.