Schools celebrate Catholic Schools Week
Published: January 26, 2023
Catholic Schools Week is observed nationwide Jan. 29 to Feb. 4. Catholic schools will celebrate the week with special Masses, open houses and other activities for students, families, parishioners and the community. Through these events, schools focus on the value Catholic education provides to young people and its contributions to the Church, communities and the nation.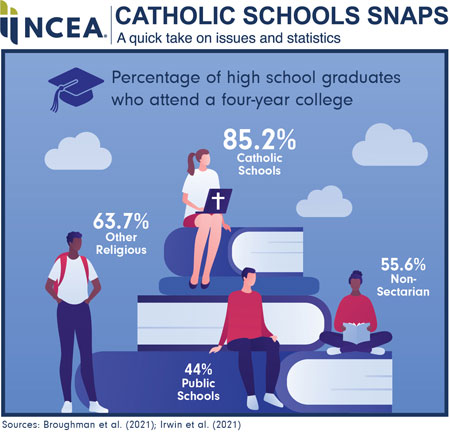 "We are so thankful to be able to once again gather together at national Catholic Schools Week events and celebrate our Catholic schools. I know I am excited about attending a Grandparents/VIP Day at my grandson's Catholic school," said Marguerite Olberts, associate superintendent of schools of the Diocese of Little Rock. "Many of our schools had to cancel events over the past three years. Gathering in-person is wonderful."
In Arkansas, we have more than 6,400 students attending 26 Catholic schools statewide. To learn how these schools will celebrate Catholic Schools Week, contact a school near you.
More than 1.6 million students are currently attending nearly 6,000 Catholic schools nationwide. Ninety-nine percent of Catholic school students graduate from high school and 85.2 percent of Catholic school graduates attend a four-year college. This percentage has been consistent for more than 20 years. To learn more, visit the NCEA or see "A Dozen Reasons to Choose Catholic Schools." In Arkansas, visit the Office of Catholic Schools or contact Marguerite Olberts at (501) 664-0340, ext. 394.