Outreach lives out the Gospel in parishes
Published: March 27, 2023
The following article was originally published in Catholic Charities Connections, a special section of Arkansas Catholic, on March 25, 2023.
Parish outreach for Catholic Charities of Arkansas works with parish-based ministries to provide ways to live out the Church's social teachings. At the helm is Sister Iliana Aponte, DC, parish outreach liaison for Catholic Charities.
Sister Iliana's ministry is rooted in the Gospel and Catholic social teaching, which calls all people to recognize the fundamental dignity of every human life from conception to natural death. She is a member of the Daughters of Charity and a licensed social worker.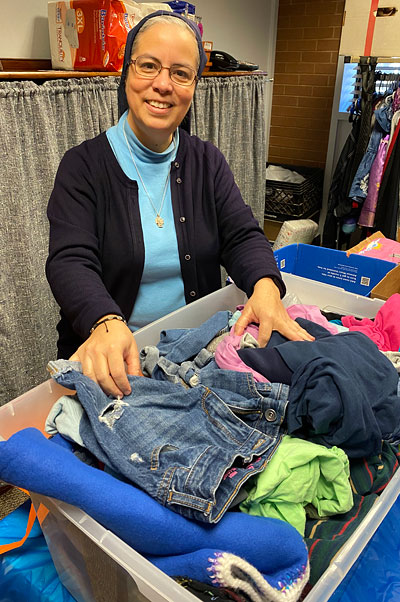 Photo Courtesy Catholic Charities of Arkansas
Sister Iliana Aponte, a licensed social worker and Daughter of Charity, works in the Charity Closet March 20, 2023, in The McDonald Center at St. John Catholic Center in Little Rock.
Her work with parishes centers on developing ministries through general education and workshops. In some cases, a specific ministry is identified as a need by a parish, and she helps them address it. Whether it is coordinating a health fair, speaking to a Catholic group or journeying with a woman in need, Sister Iliana is at home serving the poor.
In the 29 years since taking her final vows, she has served in San Juan, Arecibo and Ponce, Puerto Rico, and in Miami, South Carolina and Arkansas. She is no stranger to serving among people experiencing poverty, trauma or the impact of violence. Sister Iliana welcomes opportunities to visit parishes.
She enjoys helping parishes that need assistance with outreach and advocacy efforts, educating parishioners to serve those who are poor and vulnerable and providing opportunities for spiritual growth. Often, she works in connection with other local charities, and she sees God at work when a family's needs are met through a parish's outreach.
Sister Iliana also manages the Charity Closet at the Catholic Charities offices in The McDonald Center at 2415 N. Tyler St. in Little Rock on the campus of St. John Catholic Center.
A limited supply of children's clothing, diapers and personal hygiene products are available for people in need. For questions about parish outreach, call Sister Iliana Aponte, DC, at (501) 664-0340, ext. 403, or email her at iaponte@dolr.org.