Oils blessed at Chrism Mass sign of unity
Published: March 29, 2021
Bishop Anthony B. Taylor will celebrate the annual Chrism Mass at Christ the King Church in Little Rock on Monday, March 29 at 5:30 p.m. Because of COVID-19 precautions, space is limited and only priests will be allowed to attend. Arkansas Catholic will livestream the Mass on the Diocese of Little Rock YouTube channel for all to watch online. Subscribe to the channel to get notifications when new videos are posted.
Priests serving across Arkansas concelebrate this Mass, during which they renew their commitment to priestly service. Anointing oils to be used for sacraments and dedications are also presented for the bishop's blessing. These include the oil for the sick, used in anointing the sick; the oil for catechumens, used during baptism; and the oil for the sacred chrism, which is the primary anointing oil.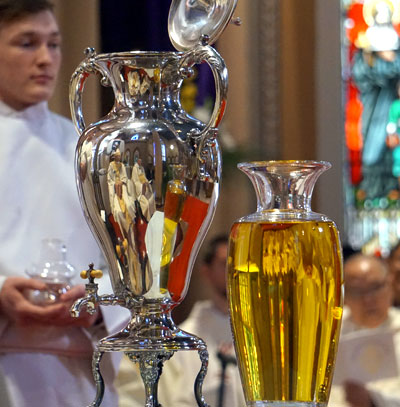 The word "chrism" means "consecrated oil." It is used in the sacraments of initiation and holy orders as well as special acts of dedication, such as consecrating a new altar and blessing church bells upon their installation.
"These oils are blessed and consecrated at this one Mass as a sign of our unity as one Church and will be taken from here to all the parishes in our state and used throughout the coming year for the administration of the sacraments in which we all share," explained Bishop Taylor in his 2019 Chrism Mass homily.
"For centuries, chrism oil has been a symbol of God's overflowing grace and generosity. It's a multi-sensory reminder of the goodness of creation, and of people and objects that are set apart from that creation to serve a sacred purpose." Like all sacred oils, chrism oil is typically made from olive oil. But unlike other sacramental oils, chrism is scented, usually with the essential oil of balsam, giving it a woody, pine-like fragrance. To learn more, see Chrism Mass Symbols and Meaning.
"The sacraments in which these oils will be used are all moments of personal encounter with the Lord, not only for our own personal benefit and consolation, but also for the purpose of mission, of being sent forth — empowered in the sacrament of confirmation, healed through the anointing of the sick and ordained to serve in holy orders," said Bishop Taylor.
"It is for this reason that this Chrism Mass focuses both on 1.) the work of God — to set us free from the power of sin and death, through Jesus' own death and resurrection, into which we are initiated in the sacrament of baptism, and 2.) the consequent work of believers — empowered and enlightened by the Holy Spirit in the sacrament of confirmation to bring that salvation to others, and all the more so for us priests who have been consecrated to the Lord through ordination, hence the renewal of our promises today," he added.