New catechist training online, enroll now
Published: March 21, 2023
The Faith Formation Office recently created a new process for adults who teach the Catholic faith in Arkansas parishes and schools to become certified as a catechist. The 20-lesson, free online program offers video instruction presented by Arkansas clergy, religious and laity at Learn.DOLR.org. | Enroll now
When completed, the Diocese of Little Rock Catechist Certification Course provides basic certification for one academic year to Catholic school teachers, directors of religious education, catechists, Rite of Christian Initiation of Adults coordinators and team members, parish and school employees, Bible study leaders, campus ministers and youth leaders or anyone else who serves in a teaching role.
The lessons can be completed at any pace or sequence and should take 12 to 15 hours to complete. Each 20-to-30-minute video comes with questions to be discussed in a study group. Self-study does not count toward certification.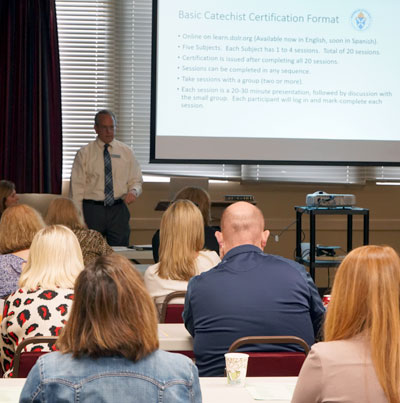 New courses will be added throughout the year to Learn.DOLR.org. Once certified, catechists need only to complete any one of the courses available online with a study group prior to July 31 to renew their certification for the upcoming academic year.
Also, any adult may participate in this program. Even if they don't teach outside the home, parents and grandparents are welcome to log onto the platform, create an account and watch the videos for their own enrichment and pass what they learned onto their children and grandchildren. Certification is not required.
According to Arkansas Catholic, the program includes sections on the Bible, Catechism of the Catholic Church, Catholic social doctrine and catechetical method and pedagogy. Bishop Anthony B. Taylor teaches on the New Testament letters and Revelation.
Other presenters include Brother Ambrose Fryer, OSB, of Subiaco Abbey; Deacon Jason Pohlmeier of Fayetteville; Deacon Matt Glover, JCL, chancellor for canonical affairs; Sister Kimberly Prohaska, OSB, and Sister Maria DeAngeli, OSB, of St. Scholastica Monastery in Fort Smith; Cackie Upchurch, former director of Little Rock Scripture Study; Erin Pohlmeier of Fayetteville; and Fathers Ben Riley of Harrison, Cassian Elkins, OSB, of Subiaco Abbey, Greg Luyet, JCL, judicial vicar, Jason Tyler of Fayetteville, John Antony of Fort Smith, Juan Guido of Little Rock and William Burmester of Texarkana. Learn more.
Currently the program is available in English. A similar certification program in Spanish will launch later. Watch the video below featuring Jeff Hines, diocesan faith formation director, who explains the new program in more detail. For more information, visit the website or contact Hines at jhines@dolr.org or call (501) 664-0340, ext. 388.
---