Dc. Nelson Rubio to be ordained Dec. 16
Published: December 4, 2017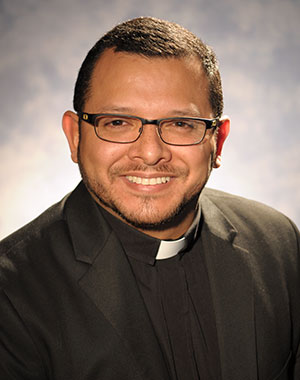 Bishop Anthony B. Taylor will ordain Deacon Nelson Rubio to the priesthood at 10 a.m. on Saturday, Dec. 16 at the Cathedral of St. Andrew in Little Rock. A reception will follow the Mass in McDonald Hall. The night before, on Friday, Dec. 15, a holy hour to pray for him and for an increase in vocations to the priesthood and religious life will be held at 6:30 p.m. at the Cathedral. All are invited to attend these events. If unable to attend, watch the ordination live.
Deacon Rubio, 37, will celebrate his first Masses on Sunday, Dec. 17. This includes a 10 a.m. Mass at Sacred Heart of Jesus Church in Hot Springs Village in English and a 7 p.m. Mass at St. Theresa Church in Little Rock in Spanish. He will begin his first assignment on Jan. 19 as associate pastor of Immaculate Heart of Mary Church in North Little Rock (Marché) and St. Mary Church in North Little Rock.
Rubio is the son of Carmen Luisa Villalobos García and Nelson Rubio Castillo. He recently completed his studies for the priesthood at Sacred Heart School of Theology in Hales Corners, Wisconsin. To learn more, read his vocation story. If you wish to contact him to congratulate him or assure him of your prayers, please e-mail him.
Currently, 27 men are discerning a vocation to the priesthood for the Diocese of Little Rock. If you or someone you know is considering a vocation to the priesthood, contact Msgr. Scott Friend, vocations director, at (501) 664-0340. For more information, contact the Vocations and Seminarians Office.