More than $500,000 raised at Taste of Faith
Published: October 13, 2022
"Truly, your generosity has been incredible!" — Father Jeff Hebert, vocations director
The 2022 Taste of Faith dinner was held Saturday, Aug. 6 at the Statehouse House Convention Center in Little Rock. It was the first time the dinner was held in-person since 2019 because of the COVID-19 pandemic. In 2020, the event was livestreamed on Facebook and YouTube. In 2021 it was livestreamed with a limited audience and no dinner.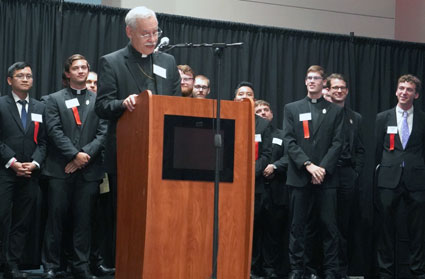 Returning to the traditional schedule, participants visited with seminarians, heard interviews and testimonials and watched the premiere of this year's video in addition to the dinner. The video, "Forming Priests Together: What Kind of Priests Do You Want?" features parishioners from across the Diocese of Little Rock discussing themes related to two major events currently taking place in the life of the Church.
First, the worldwide Synod on Synodality, a two-year process that seeks feedback from the faithful, particularly those who feel left out of the Church, and the nationwide Eucharistic Revival, a three-year celebration to increase devotion and belief in the real presence of Jesus in the Eucharist. The event, including this year's video, was also livestreamed for those unable to attend in person. It is available to watch anytime on the diocesan YouTube channel.
Taste of Faith raised $509,000 this year, surpassing its $400,000 goal. With the $51,000 raised by the Knights of Columbus during a similar event at Sacred Heart of Jesus Church in Hot Springs Village in July, $560,000 was raised for seminarian education this summer.
Father Jeff Hebert, vocations director, thanked parishioners for their generosity in supporting the needs of seminarians in the past with an appeal to donate again this year in a letter he mailed to Catholic households in July.
"Truly, your generosity has been incredible! Over the years, Catholics in Arkansas have generously provided hundreds of thousands of dollars at Taste of Faith events. Your money has been used exclusively for immediate seminarian education expenses. Without your participation, it would be impossible for us to prepare these men for the priesthood," he wrote.
Donations are welcome any time online. For more information, email Dianne Brady, director of stewardship and development, or call her (501) 664-0340, ext. 391.
---