Learn how to evangelize like St. Andrew
Published: August 22, 2019
En Español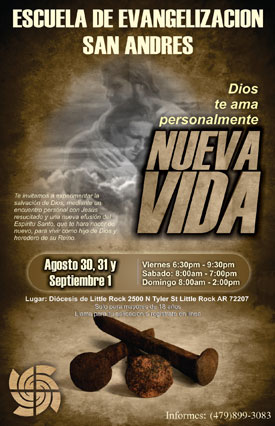 A New Life course for the St. Andrew School of Evangelization will be held Aug. 30 to Sept. 1 at St. John Catholic Center in Little Rock. This Catholic evangelization program for Spanish-speaking youth is designed to help teach participants how to go out into the world and proclaim the Good News. The cost is $60 per person and that includes meals and lodging. Complete the registration form and mail the $30 deposit (non-refundable) to the Office of Faith Formation.
The St. Andrew School of Evangelization is named after the Apostle Andrew because of his example in evangelizing his brother, Peter. The goal of this international ministry is to teach participants to follow Andrew's example in finding people like Peter who can love, serve and proclaim the Lord better than themselves. In the Diocese of Little Rock, the ministry is sponsored by the Office of Faith Formation. For more information, contact Serio Torres, associate director, at (501) 664-0340, ext. 434.
Courses are also offered year-round in parishes across Arkansas and are presented by a trained team of leaders. The program is available to children 4-12, youth 13-17 and adults 18 and older. See our Calendar of Events to find details on courses, dates and locations at a parish near you.