Joe Kleine to speak at 2016 Rosary Rally
Published: August 19, 2016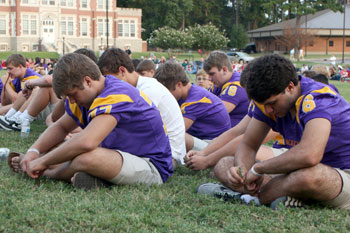 The second annual Rosary Rally for student athletes will be held at 6 p.m. on Thursday, Aug. 25 at St. John Catholic Center in Little Rock.
Youth in grades 5-12 from Catholic schools in Little Rock, North Little Rock, Benton and Hot Springs are invited to attend. Hot dogs will be served from 6 to 6:30 p.m. by area Knights of Columbus.
The keynote speaker will be Joe Kleine, a former Razorback, member of the 1984 U.S. Olympic gold medal basketball team and member of the Chicago Bulls NBA Championship team in 1998. Deacon John Hall will then offer a spiritual reflection and lead the rosary.
Players and cheerleaders should wear their jerseys, uniforms or school colors. All participants should bring their own rosaries, drinks, blankets and folding chairs. This event is sponsored by the diocesan Office of Catholic Schools. For more information, read about last year's event in Arkansas Catholic or contact Marguerite Olberts, associate superintendent, at (501) 664-0340, ext. 394.