Holy Thursday: Jesus calls us to love, serve
Published: March 29, 2018
Holy Week Schedule in Arkansas
Click on the link above to see the Easter Triduum schedule for Catholic parishes across the Diocese of Little Rock. Every effort was made to ensure accuracy. Consult a parish directly for last minute changes. If not listed, please
contact the parish
.
"If I, therefore, the master and teacher, have washed your feet, you ought to wash one another's feet. I have given you a model to follow, so that as I have done for you, you should also do." (John 13:14-15)
During the Mass of the Lord's Supper, we mark the institution of the Eucharist and priesthood and re-enact the washing of feet. This Holy Thursday evening liturgy brings Lent to a close and begins the celebration of the Easter Triduum. This year, it is March 29. Visit Arkansas Catholic to find Mass times in your area.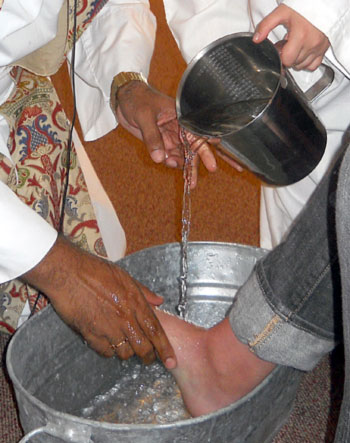 Holy Thursday is traditionally known as Maundy Thursday. The word, "maundy," comes from the Latin, "mandatum" and means "commandment" or "mandate." During the Last Supper, Jesus commanded the disciples to: "Do this in remembrance of me," (1 Corinthians 11:24) referring to the celebration of the Eucharist and "love one another," (John 13:34), which he demonstrated through the washing of the feet.
"The Eucharist and the priesthood instituted at the Last Supper are not only about Jesus' real and enduring presence, Body and Blood, Soul and Divinity, they are also about the love and service with which Jesus gives himself to us, and as a consequence of which we are now commanded — mandatum — to pour ourselves out for others," explained Bishop Anthony B. Taylor in his 2017 Holy Thursday homily.
Because Mass is not celebrated on Good Friday, extra consecrated hosts are reserved after Communion for the Good Friday service. These hosts are carried in a solemn procession for reservation in the tabernacle.
During the procession, Tantum Ergo Sacramentum or another eucharistic song is sung. Recalling Jesus' request of his disciples to stay awake and pray in the Garden of Gethsemane before his arrest (Luke 22:39-46), parishioners are invited to stay and pray before the Blessed Sacrament. The Mass concludes quietly as the altar is stripped in preparation for Good Friday.
A special collection to support seminarian education is taken up in all parishes in Arkansas on Holy Thursday. Look for the envelope in your parish or donate online. Before Mass, consider visiting area churches to say a prayer. Traditionally, Catholics visited churches to pray on Holy Thursday. This evolved from the practice of Christian pilgrimages to the holy sites where Jesus lived, preached and experienced his passion, death and resurrection.
---