Support seminarian fund on Holy Thursday
Published: March 29, 2018
We invite you to consider partnering with the diocese in preparing our seminarians for the priesthood. Click on the link above to donate online to support their education.
The annual Holy Thursday Collection for Seminarian Education will be held March 29. The money from this Diocese of Little Rock collection will support the educational and housing expenses of the diocese's seminarians. It costs more than $1 million to educate these men annually.
Msgr. Scott Friend, vicar general and vocations director, said in a letter to be read at all Masses before Holy Thursday that the diocese has raised $2,415,722.99 since the collection started. The diocese has also ordained 27 new priests since 2009.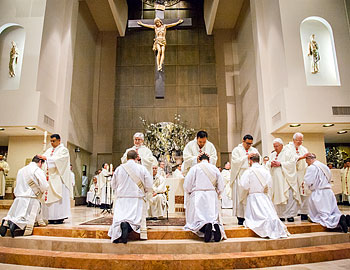 "I am pleased to share with you the good news of your holy investment in faith," he wrote. "This past year the Diocese of Little Rock ordained six men to the priesthood. They faithfully and enthusiastically serve your needs all across our diocese. I am proud to say, and they would confirm, that the fruit of their vocations are a result of your prayers and sacrifices."
Msgr. Friend said the "holy investment of faith" will continue to pay big dividends in May and June when Bishop Anthony B. Taylor will ordain eight new priests, the largest number the diocese has ordained in one year since 1955.
Msgr. Friend added, "By 2020, we could have 18 more priests, counting those ordained this past year, giving us the possibility of having over 70 active diocesan priests."
While donations to the Msgr. O'Connell Diocesan Seminarian Fund are invested and only the earnings are used, the Holy Thursday collection can be used for immediate expenses, such as tuition, room and board and health insurance.
"I invite you once again this year to open your hearts and help support these young men who will someday be your priests," he wrote in his letter. "The education cost for each of the 29 diocesan seminarians is $36,000 per year, which is equivalent to a total cost of $1,044,000. We need your help to be able to prepare our seminarians for the priesthood. Every dollar is important. Every gift is an expression of faith."
You may donate online, return your collection envelope to your parish or mail a check directly to: Holy Thursday Collection, Diocese of Little Rock, Finance Office, P.O. Box 7239, Little Rock, AR 72217.
To learn more about our seminarians, read or watch their vocation stories. For more information, contact the Vocations and Seminarians Office at (501) 664-0340.