Golf classic earns $38,000 for charities
Published: October 24, 2019
Catholic Charities of Arkansas raised $38,000 to support its programs through the Bishop McDonald-Catholic Charities Golf Classic Oct. 7. It was held at Maumelle Country Club with 27, four-person teams that included three priests and two deacons. Sacred Heart of Jesus Church in Hot Springs Village had the most parish teams with six plus the parish's Knights of Columbus Council 10208 entered two teams. The Arkansas State Council Knights of Columbus and CHI St. Vincent each entered three teams.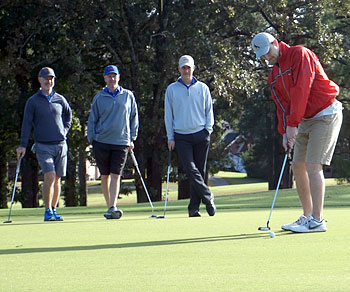 The following teams won in these categories:
Morning First Flight

— First Place: Kevin Norton, Alan Abston, Mason Morgan and Tom May of Rasco Winter Thomas Group in Little Rock. Score: 60
Morning Second Flight — First Place: Michael Burmester, Father William Burmester, Richard Burmester and Jesse Light of Our Lady of the Holy Souls Church in Little Rock. Score: 67
Afternoon First Flight — First Place: Eddie Craven, Bill Dennis, Chuck Kaiser and Brad Frederiksen of Metro Appliances & More in North Little Rock. Score: 56
Afternoon Second Flight — First Place: Chad Aduddell, Shawn Barnett and Chris Stines, CHI St. Vincent of Little Rock. Score: 66
This was the 25th year of the golf tournament, which is the primary fundraiser for the ministries and programs of Catholic Charities of Arkansas. These include: adoptions, immigration and refugee resettlement services, free medical care and assistance for the poor, natural disaster response, legislative advocacy and resources to assist in parish outreach and social justice. Several organizations and individuals also sponsored the tournament, including CHI St. Vincent as the underwriter. To learn more, read Arkansas Catholic or contact Megan Moore at (501) 664-0340, ext. 379
This event was named after the late Bishop Andrew J. McDonald who served as shepherd for the Diocese of Little Rock from 1972 to 2000. It was during his tenure that Catholic Charities of Arkansas was established. The McDonald Center, which is home to the offices of Catholic Charities, is also named in his honor.