God comes to meet us in the real world
Published: January 25, 2014
This is the first column in a 12-part series
By Cackie Upchurch
Director of Little Rock Scripture Study
"And he walks with me and he talks with me
And he tells me I am his own
And the joy we share as we tarry there
None other has ever known."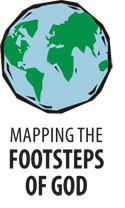 These words of the early 20th century hymn by Austin Miles, though somewhat sentimental to modern sensibilities, do capture something of the truth we discover in Christianity. We believe and have experienced the presence of God in our midst as we make our way through life.
The Bible is filled with testimony of how God entered into history to rescue, walk with, direct, correct and comfort those open to the reality of God's presence. That God took on flesh and walked among us is the prime example of the significance of the human condition and the world in which we live. It is also the most profound sign of God's generosity.
The places where our ancestors paused, having recognized God's presence, were sometimes marked with stones and altars and even larger shrines and were usually woven into the way the encounters were told and passed on to others. God, being God, could have become manifest in any number of ways but chose to be revealed in actual places and times, reminding us of the sacredness of the created world.
In our current way of thinking, there is often a dividing wall mentally erected between the sacred and the secular, the holy and the profane, as if never the two shall meet. But in a religion that is incarnational as is ours, we are challenged to see the potential for sacred encounter even in the most ordinary of places.
The Jesuit poet, Gerard Manley Hopkins, wrote in his poem "God's Grandeur" that "the world is charged with the grandeur of God" and "all is seared with trade, bleared, smeared with toil." It is this very divine beauty and sweaty human disorder that are bound together in our recognition of God's presence and action in the world we occupy.
In Genesis 28 the story is told of Jacob, departing with his father's blessing and heading out toward Haran. On his journey, sleeping under the stars, Jacob dreamed of a heavenly stairway with angels ascending and descending. In his dream God promised to give him the land on which he was lying and to multiply his descendants who would become a blessing to the earth. Further, God promised never to leave Jacob.
When the dream ended and Jacob awoke, he named the place Bethel, meaning "house of God," and he built a sacred pillar there. His words tell us something about his precise experience in that location, but they also speak to us of the attentiveness that is required of previous generations and of us: "Truly, the Lord is in this place and I did not know it!"
Jacob had not set out to encounter God or to develop his sense of the sacred. In fact, Jacob set out to escape from his brother Esau's anger. Having robbed his older brother of his birthright and the blessing usually reserved for the firstborn, Jacob and his mother Rebekah colluded and devised an escape plan that would seem honorable. Along the way, as the story goes, Jacob met God in the most normal of places.
The sacred stories of Scripture unfold in deserts and gardens, mountains and valleys, rivers and seas, villages and cities, shrines, temples and churches. These places are indeed real, can be pinpointed on maps and are worthy of our study and familiarity. But they also become symbols by which we learn to describe our own spiritual journeys. Mountaintop experiences, for example, are universally recognized as moments of transcendence while valleys often speak of a sense of profound sorrow.
In this series of columns, we will explore some of the ways the geography of the Middle East provided a tangible place for God's presence and action. In the process, we could discover with Jacob that "the Lord is in this place," that God acts not only in the expected places where we worship as community but also in the physical world where we go about our daily lives.
Our God comes "springing across the mountains, leaping across the hills" (Song of Songs 2:8). Our biblical tradition helps us to recognize the footprints of the God who created, sustains and acts in this world.
Study Questions
When you consider some of your favorite stories from the Bible, how much do you take into account the locations?
Genesis 1 indicates that with each phase of creation, God finds it good. How has this original goodness of creation been reinforced in your spiritual up-bringing?
What aspects of the natural world (e.g., water, desert, mountains, cities) draw you to seek God's presence?
Have you ever had an experience that only later became apparent as a place of knowing God's presence (as Jacob did in Genesis 28)?
This article was originally published in Arkansas Catholic Jan. 25, 2014. Copyright Diocese of Little Rock. All rights reserved. This article may be copied or redistributed with acknowledgement and permission of the publisher.