Eight respect life grants awarded in 2018
Published: October 10, 2018
"Human life is sacred and inviolable at every stage and in every situation." — The Gospel of Life, no.87
The Diocese of Little Rock awarded respect life grants to eight recipients the first week in October to mark Respect Life Month. Grants ranged from $100 to $1,000. A total of $6,000 was distributed to Catholic churches and organizations in Arkansas that promote a consistent ethic of life in the areas of education, outreach and direct client services. The Respect Life Office accepted applications for this new program until Aug. 30.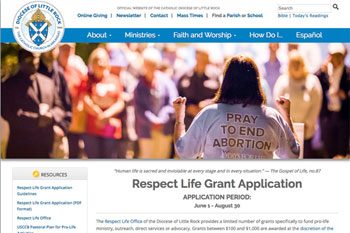 The recipients are:
Arkansas Right to Life; grant to support its abortion pill reversal awareness campaign;
Our Lady of the Holy Souls Church, Little Rock; grant for its Faith and Health Community Nurse Program and retreat;
40 Days for Life, Little Rock; a grant for its prayer vigil to end abortion;
Arkansas Coalition to Abolish the Death Penalty; a grant for its Justice Fellow Program;
Heart to Heart Pregnancy Resource Center, Fort Smith; a grant for its Earn While You Learn program;
Cathedral of St. Andrew, Little Rock; a grant for its wellness workshop and ministry;
St. Anne Fertility Care Center, Bentonville; a grant for its Mystical Rose youth education program; and
Northwest Arkansas Respect Life Council; a grant for its 40 Days for Life campaign and prayer vigil.