Donate to help in recovery after flooding
Published: June 12, 2019
Patrick Gallaher, director of Catholic Charities of Arkansas, released the following update regarding CCA's response to damage caused by the historic flooding along the Arkansas River on Wednesday, June 12, 2019. For more information, e-mail Gallaher, call him at (501) 664-0340, or read Arkansas Catholic.
"During the week of May 21, a ridge of high pressure built over the southeastern United States. In that week, 6 to 12 inches of rain fell in parts of the plains and Midwest, impacting northeast Oklahoma requiring dam releases from already high lakes. This resulted in widespread flooding, and produced record-breaking crests downstream along the Arkansas River. A river flood of this magnitude has never happened before.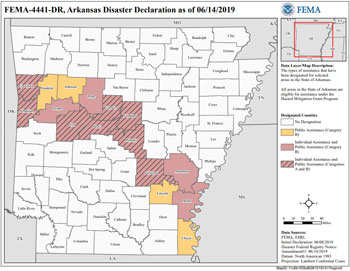 "Although the flooding in Arkansas was well anticipated, allowing people to flee to safety, tens of thousands of acres of farm and ranch land were flooded. Additionally, more than 1,000 homes of families living near the river were damaged by water to varying degrees.
"No Catholic churches were reported to have flooded, but parishes in Fort Smith, Barling and Van Buren all reported parishioners who were affected. There were also reports of parishioners sustaining damage in Pine Bluff. Other communities impacted included Dardanelle, Russellville, Morrilton, Atkins, Toad Suck, Conway, Little Rock and North Little Rock. High water also flooded homes in Chicot and Desha Counties.
"Recovery efforts are getting underway and will be supplemented by individual assistance payments from the FEMA (Federal Emergency Management Agency) within the declared disaster areas. These payments will not be adequate to return the survivors to a semblance of normalcy. Catholic Charities of Arkansas is working with the affected parishes and through the Arkansas VOAD (Volunteer Organizations Active in Disaster) to bring relief to families that have sustained losses.
"Your generous contributions will allow us to help survivors and administer our operations so we can reach those in need. Designate your donation to: "2019 Disaster," (and) make payments to Catholic Charities of Arkansas. Mail checks to: Catholic Charities of Arkansas, P.O. Box 7565, Little Rock, AR 72217."