Diaconate Ordination of Daniel Velasco
Published: May 17, 2019
Bishop Anthony B. Taylor preached the following homily at St. James Church in Searcy on Friday, May 17, 2019. It is based on the following readings: Numbers 3:5-9; Psalms 89; 1 Peter 4:7-11; and Luke 10:1-9.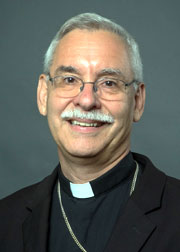 Bishop Taylor
I have two sisters and both play tennis, even as adults. I tried it in high school, but it required too much mental concentration and agility and focus and control for me to succeed in that sport. But I could see that developing these human qualities could take one far in life. And today as we gather for the ordination to the diaconate of Daniel Velasco, we see that like with anything else, God can use even tennis to form us and get us to where he wants us to be.
One of the places that God wanted Daniel to be was in Searcy, Arkansas and so he used tennis to bring him here. God is counter-intuitive and not limited by our denominational categories, so he could even use Harding University — a decidedly non-Catholic institution — to form this young athlete and lay the foundation for his vocation to the priesthood.
Would he have gotten the scholarship that brought him here from Mexico if the university knew what God had in mind for him? I would like to think so. I think they must know, as we know, that our God is a God of surprises! As Daniel writes at the beginning of his seminarian profile on the website of the Diocese of Little Rock, his "discernment has been definitely an interesting journey." And much of that journey was connected to his involvement here at St. James parish years after finishing his degree at Harding.
The basic meaning of the word "deacon" is servant, so a very important part of your diaconal ministry is the way you serve the Lord out in the world once the liturgical celebration has ended.
God has given you, the parishioners of St. James and you, the Vincentian Lay Missionaries, a decisive role in nurturing Daniel's vocation. Daniel speaks in particular of eucharistic adoration during a retreat in October of 2012 in which, in the silence of his heart, God was whispering … and for the first time, he realized that Jesus was inviting him to share in his priesthood. And with that his journey of discernment really began.
Daniel, today you will be ordained a transitional deacon, the last step before ordination to the priesthood, but even then, your "interesting journey" will not come to an end. The readings you have chosen for your ordination flesh some of this out. As a deacon you will have a liturgical role — sort of like the Levites in the first reading from the book of Numbers, though your service of the un-bloody sacrifice of the Eucharist will be much less messy than it was in the Old Testament days of animal sacrifice.
As a deacon, you will also have a role of hospitality. Indeed, while the pastor often has to deal with difficult situations which sometimes produce misunderstandings, the role of the deacon is to be sort of like the glue in the community, noticing who is falling through the cracks and reaching out to them with understanding and concern, just as we see in the second reading that you chose from the first letter of St. Peter.
Peter writes that you should be serious and sober-minded, which you are. He says our love must be intense and our hospitality uncomplaining. We are to be good stewards of God's gifts, speaking only words of God, serving with the strength God supplies, glorifying God in everything we do. And I would add, you don't stop being a deacon when you become a priest. Peter's recommendations are for all of us!
And then as a deacon, you have a role of evangelizing. In our Gospel Jesus sends the disciples out two-by-two proclaiming the Kingdom of God. Two by two because we need each other's support — we shouldn't be "lone rangers" in ministry. And the message we bring is one of peace, healing and kindness. Jesus adds that "the harvest is abundant, but the laborers are few; so ask the master of the harvest to send out laborers for his harvest." We have done just that and you — as a laborer for God's harvest — are part of his answer to our prayers.
Today you will be ordained a deacon and as such, will be entrusted with a ministry of sacrament and service. You will baptize, officiate at weddings and funerals outside of Mass, and proclaim the Gospel in every sort of liturgical celebration. But don't forget that the basic meaning of the word "deacon" is servant, so a very important part of your diaconal ministry is the way you serve the Lord out in the world once the liturgical celebration has ended!