Deacons celebrate diaconate anniversaries
Published: April 21, 2023
Five deacons will celebrate their 30th anniversary as deacons on Monday, April 24. They were ordained by the late Bishop Andrew J. McDonald on April 24, 1993.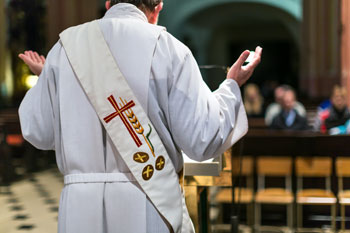 They are Deacon Bill Brandon, Immaculate Conception, Blytheville, and St. Matthew, Osceola; Deacon Paul Cronan. St. Thomas Aquinas, Fayetteville; Deacon Bill Wrape, senior deacon from St. Theresa, Little Rock; Deacon Joe Harrison, senior deacon from St. John, Hot Springs; and Deacon Bob Morris, senior deacon from St. Albert, Heber Springs. Please continue to pray for them in their diaconal ministries.
The Minister to Deacons Office will host a Mass and dinner Thursday, June 1 at the Cathedral of St. Andrew in Little Rock to honor deacons ordained 25 years ago. Bishop Anthony B. Taylor will celebrate Mass at 5:30 p.m. The late Bishop Andrew J. McDonald ordained 12 men on May 31, 1998.
To learn more about the deacons serving in the Diocese of Little Rock, visit our Diaconate Directory. For more information, contact Dc. Tim Costello, minister to deacons, at (501) 664-0340, ext. 390.