Deacons to be honored for years of service
Published: April 23, 2018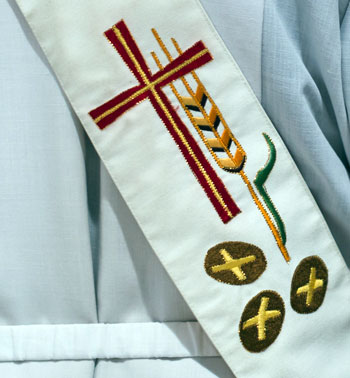 Bishop Anthony B. Taylor will celebrate a Mass to honor deacons celebrating 25 years of service to the Diocese of Little Rock on Tuesday, April 24 at 5 p.m. at the Cathedral of St. Andrew in Little Rock. All are invited to attend.
The following deacons will be celebrated: Deacons Bill Brandon of Blytheville, Al Genna of Bella Vista, Joe Harrison of Hot Springs, Elton Harrison of Pine Bluff (retired), Clarence Leis of Rogers (retired), Chuck Marino of Springdale, Bo McAllister and Bill Wrape (retired), both of Little Rock, John Serio of Ruston, La. and Bob Morris of Heber Springs (retired).
Deceased deacons from this class will also be remembered: These include: The late Deacons Joe Bruick, Kirke Herman and John Connell.
These deacons were ordained to the permanent diaconate by the late Bishop Andrew J. McDonald in 1993. They were the third class to be ordained for the Diocese of Little Rock. To learn more about the deacons being honored, or to find a list of all deacons serving in Arkansas, visit our Deacon Directory.
This event is sponsored by the diocesan Minister to Deacons Office. For more information, contact Susan Padgett, assistant to the minister to deacons, at (501) 664-0340, ext. 397.