Communicators: This workshop is for you
Published: September 26, 2019
Click on the button above to register for the Digital Disciples Communications Day. Advance tickets are $20 per person if purchased by Oct. 7. After the deadline, tickets are $25 per person. For more information, contact Malea Hargett at (501) 664-0125.
The second Digital Disciples Communications Day will be held Thursday, Oct. 17 at St. John Catholic Center in Little Rock for Catholic communicators at the diocese and in parishes, schools and religious orders across Arkansas. It will be held from 9 a.m. to 4 p.m. in Fitzgerald Hall and will include a plenary session, three workshops, lunch and Mass.
New this year is the plenary session with featured speaker Father Stephen Gadberry, pastor of St. Mary Church in Batesville and St. Cecilia Church in Newport. On Palm Sunday 2018 Father Gadberry competed on the NBC reality show "American Ninja Warrior" and in February 2019 he was a presenter for the "Evangelizing the Unaffiliated Word on Fire Digital Summit".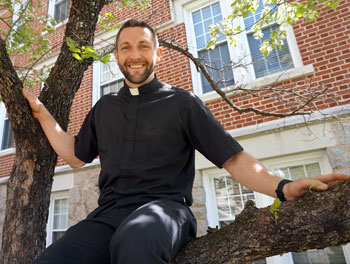 In June, he was named a Word on Fire Institute Fellow. Father Gadberry has embraced social media, particularly Instagram, and the use of other digital tools to spread the Gospel. Bishop Robert Barron founded Word on Fire, a Catholic media organization that uses digital and traditional media to "Proclaim Christ in the Culture" worldwide.
After the morning, plenary session, participants may choose which workshop they wish to attend: "Instagram 101: For Beginners" or "Instagram 201: For Experienced Users". Afterwards, all come back to together for Mass, celebrated by Bishop Anthony B. Taylor, at noon, followed by lunch. Options for the two afternoon workshops are: "Show vs. Tell: Using Video to Share Your Message" or "Not Taboo: Branding and Marketing"; and "10 Way to Up your Writing and Design" or "Catholic Communicators Guide to Being Effective on the Web".
The cost is $20 per person if registered by Oct. 7. After the deadline, the cost is $25 per person. Overnight accommodations are available for an additional fee. This new event is sponsored by Arkansas Catholic and the Catholic Schools Office. For more information, download the flyer or contact Malea Hargett, editor of Arkansas Catholic, at (501) 664-0125.